Submitted by Fred Straker on
Apple has been granted a patent titled "Small form factor high-resolution camera". While it may not sound like a departure from current iSight cameras found on devices such as the iPhone, this new design may have a significant design impact. By making the image sensor concave, Apple engineers are able to compress the entire camera assembly. The key to this design is that image quality is retained, with high-resolution image capture possible despite the smaller package size.
US Patent number 9,244,253 describes the size of the new camera:
Total axial length of the camera may be 2.0 mm or less. The camera may be implemented in a small package size while still capturing sharp, high-resolution images, making the camera suitable for use in small devices.
Incredibly, despite having a thickness of 2.0 mm or less, Apple's camera is capable of utilizing smaller pixels (less than 1.2 microns) while still providing sharp, high-resolution images. In addition to the concave photosensor, Apple describes three lens elements, with one of these designed to correct for chromatic aberration. The patent also explains that the camera will include an algorithm to correct for barrel distortion.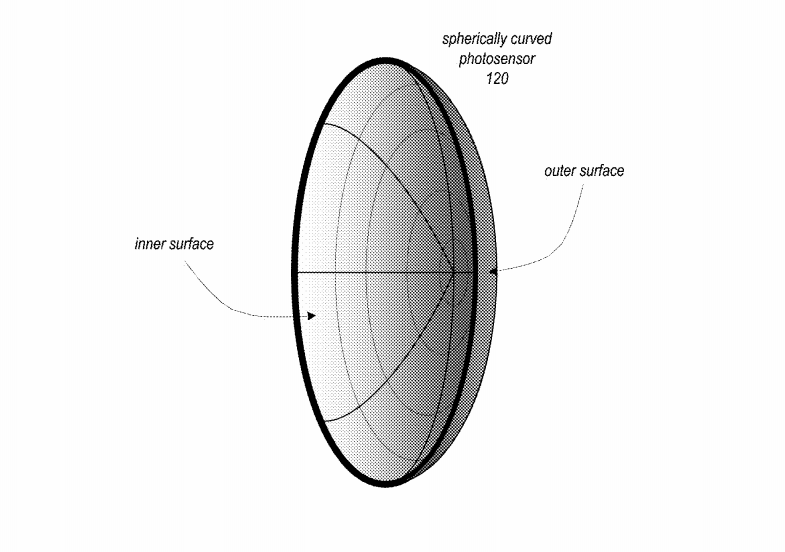 Apple is always seeking to save space in its mobile devices and Macs. The concave image sensor may come in handy to reduce or eliminate protruding camera lenses on current generation iPhones. The iPhone 6s was rumored to have a flush camera lens, nixing the bulge found on the back of the iPhone 6. This did not come true, and both iPhone models have the same external design. Apple may be incorporating the concave photosensor patent into the iPhone 7, expected this September.
While chassis photos have not revealed the iSight camera lens on the iPhone 7, the next generation handset is said to be
waterproof and to feature hidden antenna bands
thanks to new compound materials. Despite the appearance of solid metal, the iPhone 7 would allow radio signals to pass through the case where needed. No doubt the iPhone 7 will not be any thicker than the iPhone 6s, however the camera lens may finally shrink away.