Submitted by Fred Straker on
Web browsers are always collecting information, and Safari on iOS devices is no different. iPhone owners interested in enhancing privacy can use private browsing when opening a new Safari tab. But what about all of the cookies, browsing history, login data and other files that accumulate during a normal web session? There are two places in iOS where this information stored by Safari can be manually deleted at any time.
The amount of information which is automatically stored by Safari can be extensive. In addition, individual web sites can store data locally on your device. For its part, Safari collects everything from a list of sites visited to recent search terms, cookies and even site icons.
To delete Safari history and browsing data across all devices signed into iCloud:
1. Navigate to Settings

2. Scroll down and select Safari

3. Scroll down again and tap Clear History and Website Data

4. Confirm by selecting Clear History and Data
There are additional steps that can be taken to remove all website data, including information stored on the iPhone by websites themselves. A list can be viewed to detail how much storage space each website is using. While removing this locally stored data prevents websites from tracking you, it is also used to save login info for sites with accounts and to increase browsing speeds.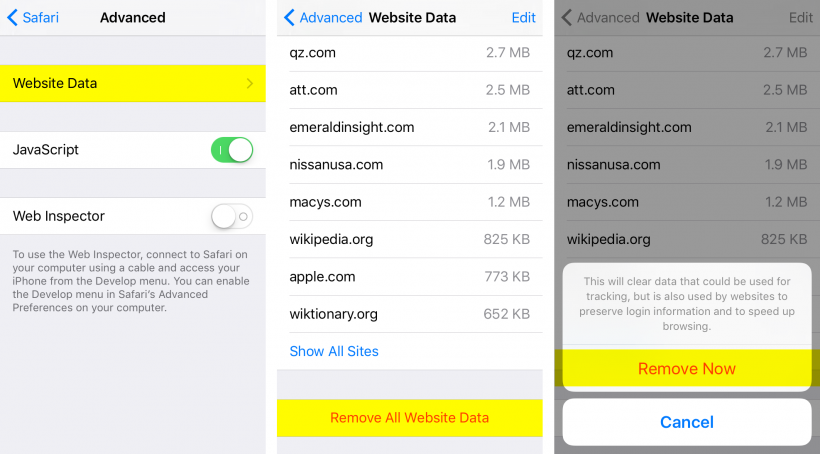 To delete data saved on the iPhone by individual websites:
1. From Settings -> Safari scroll down and tap Advanced

2. Select Website Data

3. Individual websites' data can be deleted by swiping left or tapping the Edit button in the upper right corner

4. To clear everything, scroll to the bottom and tap Remove All Website Data

5. Confirm by selecting Remove Now
Once the above steps have been completed Safari will effectively be reset, with no frequently visited sites, locations or history logged.