Submitted by Rex Chamberlain on
Apple's recent take on revolutionizing photos is magical, but there is one glaring issue for most people. As neat as Live Photos are, the format is still unsupported in many places. Say you wanted to send a Live Photo to your friend who uses something besides an iPhone. You would be out of luck.
This article covers how you can convert your Live Photos to the popular GIF format along with other popular formats so you can share them practically anywhere.
Lively
The popular moniker for iPhone is certainly true in this area, "there's an app for that". The easiest way to convert your Live Photos is by using an app. Like with any category, a bunch of apps have been released to help iPhone users convert Live Photos, but there are only a few that really stand out. One of the best apps for accomplishing this task is Lively.
What sets Lively apart is its ease of use and the features included in the app. Lively not only allows you to convert a Live Photo to GIF, but it also lets you convert to a movie or extract a still image from the Live Photo.
Recently, Lively added the ability to trim your clips as well. Although Apple fixed the issue in iOS 9.1, you probably still have Live Photos that captured you either lifting or lowering your phone after taking a Live Photo. It is nice to be able to edit that out.
Arguably the best recent feature added to Lively is being able to extract a still frame from any moment in the Live Photo. In the app, Lively allows you scroll through the Live Photo and pick which frame you want to turn into a still image.
Lively is free to download on the App Store, but requires a $2.99 in-app purchase to get rid of the watermark on exported images and videos.
Live GIF
Another stand out app in this category is Live GIF. As you've already guessed, it allows you to convert any Live Photo into a GIF.
Both apps are simple to use but Live GIF is more bare bones by design. The focus in this app is just to convert your Live Photos to either GIFs or videos. There are no extra features but the simplicity and minimal user interface is attractive.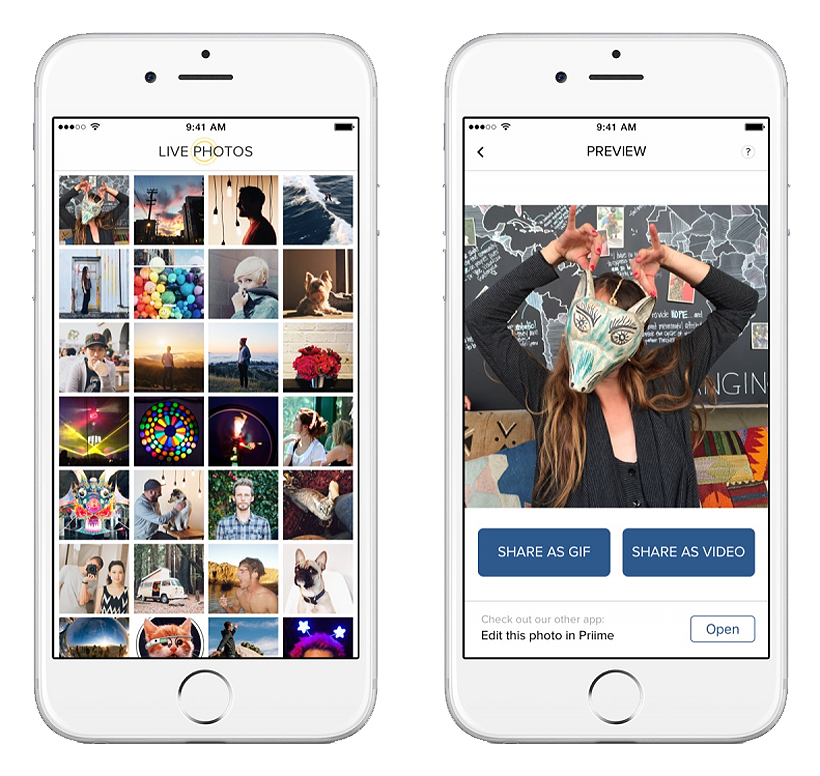 Live GIF lacks the ability to extract still frames and doesn't include a trimming feature in the app. Instead, this app is just for converting Live Photos. The app does allow you to open the GIF or video in your favorite editing app after its converted.
Live GIF is available for $1.99 on the App Store.
Since a main part of both apps is sharing, each features a large amount of sharing options so you can send your converted Live Photos wherever you want.
Since Live Photos are still a relatively new feature, they will hopefully continue to be supported in more and more places, but for now GIFs and videos are much easier to share. Apps like Lively and Live GIF are currently the easiest way to convert your Live Photos.