Submitted by Rex Chamberlain on
Instead of straining to plan your next road trip on your iPhone, you can now view maps on the big screen using your Apple TV. A new app called TV Maps is now available for $1.99 on the App Store and the experience is really cool. The app uses MapKit, the same backend used in Apple's own Maps app, and includes most of the same features.
TV Maps is in its first version and it does experience some minor issues like delays while loading map segments and some stuttering when using Flyover. This may be mostly a RAM issue, but either way it is a slight annoyance while using the app. For the most part, however, TV Maps runs smoothly on the Apple TV. Overall, for a first of its kind tvOS app, it works really well. The experience will feel right at home if you've used Maps for iPhone, iPad or the Mac.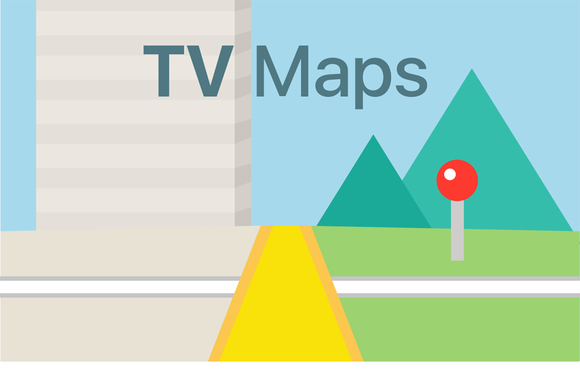 Navigation is handled in a clever way and takes advantage of the trackpad on the Siri Remote. When viewing maps, you can zoom in and out by simply sliding up or down on the right edge of the trackpad. To scroll across maps, you can swipe back and forth on the other areas of the trackpad. This may seems like a small thing, but navigating maps this way is intuitive and makes the experience feel similar to iOS, which is a good thing.
TV Maps offers all the features you would expect in a maps app. You can switch back and forth between street view, satellite view and hybrid view. There are also other familiar features like 3D view, location finding and directions. By holding down on the Siri Remote's trackpad, you can access the location and direction options along with a settings menu. The location feature is simple enough to use. You simply tap the entry field and type in an address or place you want to view. Getting directions is similar. Just tap the directions option and enter starting and ending points. A nice touch to the directions option is that it shows you alternative routes you can take to get to your destination.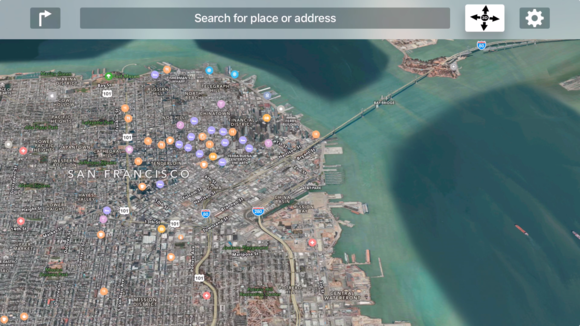 There was only one initial hinderance with using the app. Entering text on the Apple TV is a pain, and unlike most Apple TV apps, you regularly need to do so to search locations or get directions. Switching back and forth between the Siri Remote and the Remote app on the iPhone helps, but it's a clunky workaround. However, this issue is fading as Apple implements dictation across tvOS, and thankfully TV Maps takes advantage of this feature. Using dictation to enter text makes the entire experience much better.
At this point, you've likely had the thought, "what good is getting directions on a television." Fair question, luckily the developer behind TV Maps considered this as well. When you purchase TV Maps on the tvOS app store, it comes with a complimentary iPhone app which allows you to pass directions from the Apple TV to your iPhone. The directions can then be opened directly in the built-in Maps app. The purchase will also work the other way around, so if you purchase the iPhone app you will get the tvOS app as well.
TV Maps isn't a groundbreaking tvOS app, but it's certainly a clever idea and one that can be quite useful. If you have ever used Google Earth, this app is similar but more intuitive. It's also an enjoyable way to plan a trip and the ability to send directions to your iPhone is a nice touch.