Submitted by Frank Macey on
For those iPhone owners who aren't the biggest fans of Apple's home grown Maps application, take heart. The company has explicitly stated during its earnings call today that work continues on improving Maps. Apple made the decision to replace Google Maps with the launch of iOS 6.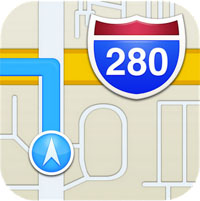 The announcement came directly from CFO Peter Oppenheimer, who stated that Apple has "made a number of improvements to Maps over the past month and will work nonstop until Maps lives up to our incredibly high standards." No doubt Apple has Google in their sights and does not want to be considered the inferior solution.
Apple's Maps have been criticized for losing some features that users came to expect from Google Maps. These include Transit directions and Street View. Other top iPhone 5 complaints included missing roads, places with the wrong name, and low resolution satellite imagery in the Maps application.
Despite the hiccups, Maps continues to improve the more iPhone owners use the software. Not only this, but Apple's Maps have 3D Flyover mode and turn-by-turn navigation, two features that were not accessible in Google's version. For its part, Google is reportedly developing its own stand-alone iOS 6 mapping application. Although screenshots were recently leaked there's still no telling when Google plans to submit the app to Apple for approval. It's possible Apple could reject the app under grounds of duplicating functionality already provided natively in iOS 6.
In any case, it's good to know that Oppenheimer reiterated that Apple is aware of problems iPhone users have been experiencing with Maps, and that work is underway to constantly improve the app.