Submitted by Rex Chamberlain on
One of the first things most people want to do when they get a new Apple device is make sure their mail, contacts and calendars are setup. The most popular services many people use to sync this information comes from Google and Microsoft. However, Apple has continued to push iCloud forward and it is arguably the best option for those who use multiple Apple devices.
If you just purchased your 5th iPhone or you are new to the platform, this guide will help you use iCloud to get some of your most important information setup on your new device.
Syncing iCloud Mail, Contacts and Calendars
As the name implies, iCloud sync will keep information stored in iCloud updated across the devices where you have the service activated. If you are restoring your new Apple device from a backup of an old device, iCloud will be automatically setup if you had the service activated before. However, if you are a new Apple convert or you just want a fresh start with your new iPhone or iPad, you can setup iCloud by going to the Settings app and then selecting the iCloud option. You will then be asked to enter your iCloud password for your iCloud account. If you are a new iPhone or iPad user, you should have been prompted to setup an iCloud account when you initially setup your device.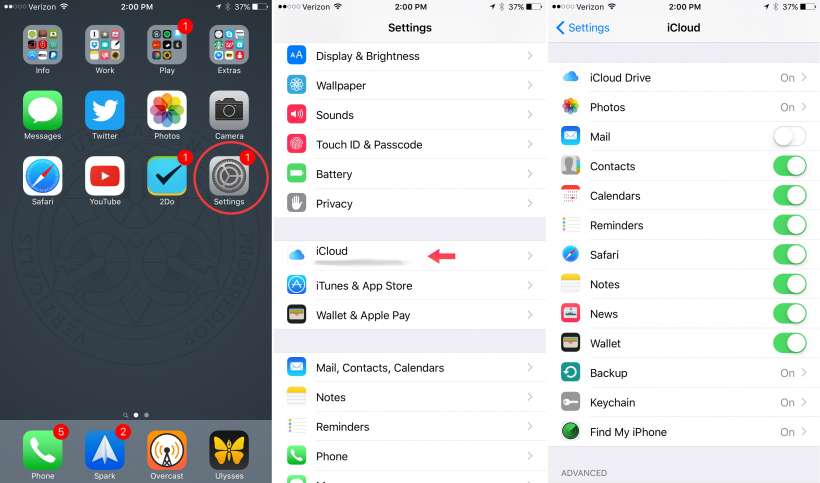 Once you've entered your password, you will see a list of iCloud services. Here, simply select the services you wish to Sync between devices. After you activate Contacts for example, all of your contacts will appear on every other device you have with iCloud activated. This can be an iPad, Mac or even a Windows PC. You can find iCloud for Windows on Apple's website if you're interested. Also, any new contact you add will be synced between devices.
In the future you can disable any of these options if you need to by going back to the iCloud options in the Settings app and turning off the specific option you no longer want to sync.
iCloud Drive
There are a few other helpful iCloud services you will see inside the Settings app. Towards the top is iCloud Drive. You can think of this service as Apple's version of Dropbox, but much more integrated with the iPhone and iPad. You can sync most types of text, audio and video files through iCloud Drive. Additionally, you can choose to show the app on your Home screen, which allows you to view and manage your files in a similar way to other cloud management services. iCloud Drive is still a work in progress, but it benefits from its tight integration with iOS.
iCloud Photo Library
Photos is another notable iCloud feature. Apple recently overhauled their the Photos app and one of the primary changes was the addition of iCloud Photo Library. As you've probably guessed, this service will store all of your photos and videos in iCloud which makes them accessible on your other devices.
If you take a bunch of photos and videos, keep in mind that iCloud only comes with 5GB of free storage. This is plenty for things like email and contacts, but if you want to use iCloud Photo Library it's best to upgrade your storage. Apple's prices for iCloud storage are fairly reasonable. You can get either 50GB for $0.99 a month, 200GB for $2.99 or a whopping 1TB for $9.99 a month.
This guide will get you started with iCloud, but Apple is always adding to the service so stay tuned for updates and new features.