Submitted by Thomas Estilow on
Palm's answer to the iPhone, the Palm Pre will be hitting shelves on June 6. The device debuts at $299 with a $100 mail-in rebate, however at Best Buy the cost will be $199 flat.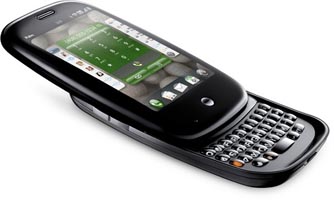 The device will compete with Apple's iPhone, the Blackberry Storm, and T-Mobile's G1. Sprint is expecting shortages of the device as consumer demand initially will outpace supply.
CEO Dan Hesse said, "We don't intend to advertise it heavily early on because we think we are going to have shortages for a while. We won't be able to keep up with demand for the device in the early period of time."
The required two-year contract with Sprint is available in two tiers. The more expensive plan costs $100 per month and includes unlimited Sprint TV, data, text messaging, GPS, and voice minutes. For $70 per month subscribers get unlimited data and text messaging, and calling is limited to 450 peak minutes with free nights and weekends.
Palm's webOS operating system is designed for seamless Internet connectivity, and allows multiple applications to run simultaneously. The device has a slide out keyboard and a touch screen interface capable of swipes, pinches, and other gestures similar to the iPhone.
Could it be too similar?
Apple was recently awarded a far-reaching patent titled "Touch screen device, method, and graphical user interface for determining commands by applying heuristics." The patent may be the first step in a legal battle between Apple and Palm over the Pre.
Palm's stock price dropped after Apple COO Tim Cook was asked about the increasing threat of competitors against the iPhone in a quarterly conference call. His response? "We will not stand for having our IP [intellectual property] ripped off." Cook vowed the company would use "every weapon at our disposal" if the iPhone interface was copied.
Lynn Fox, a Palm representative responded, "Palm has a long history of innovation that is reflected in our products and robust patent portfolio, and we have long been recognized for our fundamental patents in the mobile space. If faced with legal action, we are confident that we have the tools necessary to defend ourselves."
With the release of the Palm Pre on June 6 and the Apple iPhone 3.0 hot on its heels, this summer could be a battle royale.