Submitted by Thomas Estilow on
Next generation iPhone parts have already hit the web. Online wholesaler China Ontrade has a menu item labeled iPhone 4G Spare Parts, and claims to have stocked two parts from the not-yet-released third generation iPhone.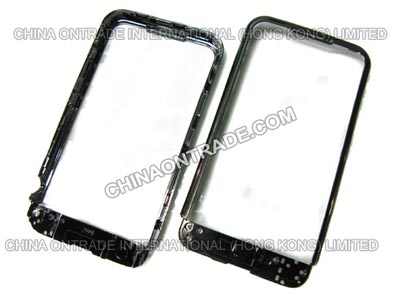 One of the parts is the bezel frame, and the other an LCD screen. The bezel frame sports a different shape and color than the iPhone 3G bezel, and runs $79.27. Anyone following rumors lately might have expected an OLED screen on the new iPhone.
It's possible the higher-tier models might still sport an OLED, but don't hold your breath. The "3gen" iPhone LCD screen for sale at China Ontrade is running $73.40. The iPhone 3G LCD screen is also available for $35.23.
The Hong Kong-based vendor states: This is great honor for China Ontrade (HK) chinaontrade.com to be the 1st started to supply iphone 3gen 2009 parts directly from factory.
High resolution photos of the parts are available on the China Ontrade website. The company also has closeup photos of the new parts next to the iPhone 3G versions for comparison. China Ontrade accepts multiple payment methods and offers shipping to most countries within 1-3 weeks.
Assuming these iPhone 3.0 parts are for real, someone at Apple must be ticked.