Submitted by Bob Bhatnagar on
Check out this photo of the black iPhone 3G next to what is purported to be the next generation iPhone. The matte finish on the new device to the left is clearly visible, although the model number is not.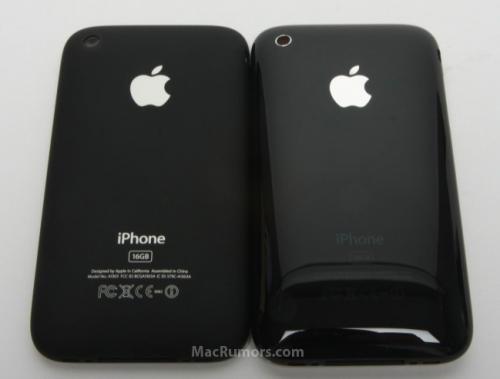 Previous leaked photos of the matte iPhone 3.0 have indicated the model number A1303. The older photos looked like metal may have been used for the back casing, however recent tips have pointed to the possibility of a matte plastic back.
The writing on the back of this matte device appears silver, and looks more like an engraving in metal than paint on plastic. The next generation iPhone also loses the chrome ring around the camera.
Other rumors have circulated lately regarding a glowing Apple symbol on the back of the new iPhone, however this is unlikely considering battery life constraints. What looks cool on the back of a notebook computer doesn't necessarily make sense on an already battery-starved mobile device.
It's possible the backlight for the LED screen could be used to shine through the back of the case, however this would require the rearrangement of opaque hardware on the motherboard in between the backlight and the glowing Apple logo.
The matte finish looks like it might provide better grip, whether metal or plastic, and hide scratches better than the current shiny finish.
Hopefully, Apple has figured out a way to prevent the notorious hairline cracks that users have reported on white plastic iPhone 3G enclosures.
The WWDC keynote speech is only 10 days away. Analysts expect a major announcement by Apple regarding the iPhone 3.0 at the event.