Submitted by Marshall Walker on
The Facebook-owned messaging app, WhatsApp has updated its privacy policy to share data with its parent company. Yes, WhatsApp wants to share your phone number and analytics with Facebook even after promising it would never do so when it was acquired by the social network back in 2014. The updated privacy policy now reads:
"By coordinating more with Facebook, we'll be able to do things like track basic metrics about how often people use our services and better fight spam on WhatsApp. And by connecting your phone number with Facebook's systems, Facebook can offer better friend suggestions and show you more relevant ads if you have an account with them."
WhatsApp ensures nothing its users share on the app, such as messages, photos, and account information, will be publicly made available on Facebook, but this still might not sit well with some users. Luckily existing WhatsApp users can opt out of sharing their data with Facebook for advertising reasons. Here's how:
You can easily uncheck the box or toggle option next to the green Agree button when prompted to to accept the updated Terms of Service and Privacy Policy. You can do this by tapping Read, then scroll down until you see the checked box and tap it to remove the check.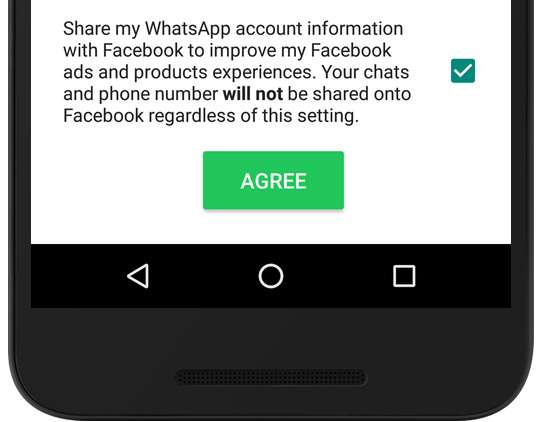 If you have already accepted the new Terms of Service and Privacy Policy you can opt out within 30 days by navigating to Settings > Account > Share my account info. Just tap the box next to
Share my account info
option to remove the check and your data will not be shared with Facebook to improve your "ads and products experiences." However, Facebook can still access your information to improve infrastructure and delivery systems, fight spam" and more. The best way not to have your data shared with Facebook is not to use any of their services, such as
WhatsApp
.
You can click here to read the fine print of opting out, and click here to read the full updated TOS.