Submitted by Marshall Walker on
Now that iOS 10 is here and the OTA downloading issues have been resolved by Apple, let's look at how to utilize Stickers in the Messages app. Stickers are images or animations you can send to other iOS users to enhance your text messages. They are not the same as the .GIFs or other photos found in the #images section in your App Drawer.
In iOS 10 Stickers can be sent as an individual text messages or they can be attached to already delivered text bubbles in a message thread. These are unlike regular images or .GIFs that can only be sent individually with a message attached.
To use Stickers you need to install sticker packs, just like you install an app or third-party keyboard on your device. These packs can be found in the Messages App Store, and like the App Store there are free packs and premium packs. The App Store also includes iMessage Apps and Games you can download.
To access the App Store in the Messages app tap the gray arrow next iMessage text box, then tap the App Store icon. From here tap the four gray dots then the blue + sign that is labeled "Store." After you have accessed the App Store you can download free or premium sticker packs and add them to your App Drawer.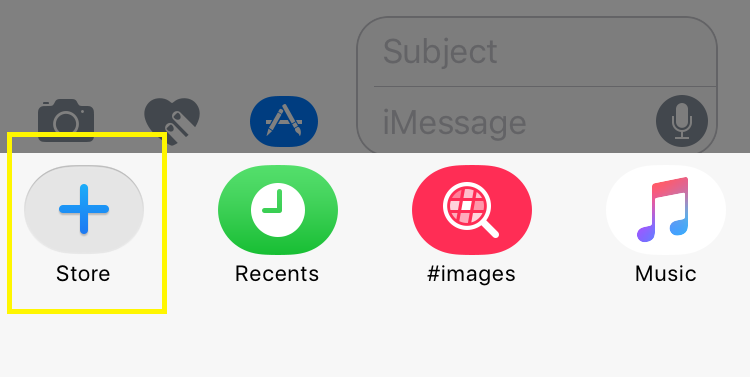 Now that you have your favorite sticker packs installed it is time to annoy your friends by placing hundreds of them on top of your previous text bubbles. To place an iOS Sticker on top of a text bubble just open your App Drawer the same way you accessed the App Store, then drag the sticker into the text thread. You can place it anywhere you want including on top of any previously sent text bubble, or in the text box to send it individually.
If you like a specific Sticker sent to you by a friend and want to know where they got it, just tap and hold the sticker until the pop up box appears. Tap the "Sticker Details" option, and it will tell you who sent it, the name of the sticker pack and it will include a link to download it from the App Store.
You can delete Stickers in iMessage on your Mac but there doesn't seem to be a way to delete them from iOS. You can delete an entire message by tapping and holding down on the sticker until the pop box appears. From here tap "More" then tap the trash can icon to delete the message bubble with Sticker attached.
Update: You can learn how to remove Stickers here.