Submitted by Marshall Walker on
A few months ago we looked at some of the features you can disable in iOS 10, but there are also some new features you're stuck with. For example, some iPhone users were disappointed to realize that there is no way to disable the Handwriting option in the Messages app. It was also discovered that you can stop receiving or sending all screen effects by disabling the the Reduce Motion slider under Settings > General > Accessibility . However, this caused some confusion since most people already had the slider disabled which blocked them from sending both bubble or screen effects after they installed iOS 10.
To try an clear some of the confusion, here are 5 iOS 10 features that don't come with an OFF switch. If you have discovered a way to disable any of these features please let us know in the comments below.
Slide to unlock - You can actually restore this feature without jailbreaking by following the instructions in the video below, by Billy Ellis, but you will need to download a bunch of software on your Mac or PC. You can also restore the rest to open feature by following these steps, but there is really no way to disable the new "Press home to open" option.
App drawer, camera shortcut and Digital Touch - If I had a nickle for every person who asked me the purpose of Digital Touch I would be rich enough to retire from writing. In iOS 10 you can now access your camera, App drawer and new Digital Touch fireballs and hearts by tapping the grey arrow n in the Messages app. There doesn't seem to be any real purpose to the Digital Touch feature except maybe to annoy family and friends, and the App drawer just gives you access to stickers, images and some apps. There is no way to disable any of these features so you'll just need to learn to ignore them.
Handwriting
- The Handwriting feature still confuses me. Sometimes it seems like you can turn it off by tapping the keyboard icon when in landscape mode, and other times it seems like it is indefinitely on. Unfortunately there is no ON/OFF slider to put an end to it forever.
Lock screen widgets You can disable the widget screen if you have a password and Touch ID enabled, but you're stuck with it on your Lock screen if you do not. To disable the Lock screen widgets when Touch ID is enabled, navigate to Settings > Touch ID and Passcode, then tap the Today View slider so it is OFF/WHITE. If you do not have a passcode enabled then the Today View slider will be grayed out.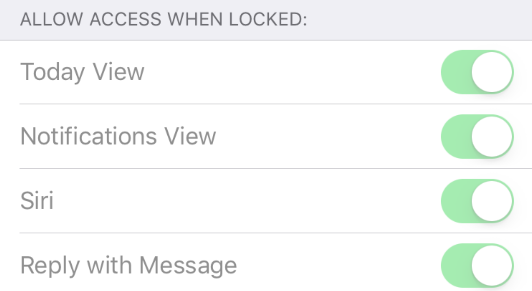 Rich Notifications - We have received a lot of emails complaining about the new Rich notifications in iOS 10, but we have yet to discover how to get rid of them.
Please let us know if we missed any important iOS 10 features you would like to disable in the comments below.