Submitted by Sammy Snyder on
Kongregate's Animation Throwdown sounds great on paper. Who doesn't want to play a collectible card game featuring all the main and side characters from Fox's most popular animated series? The game includes characters and locations from King of the Hill, Family Guy, Futurerama, Bob's Burgers and American Dad, but unfortunately Animation Throwdown falls flat in all the key areas.
Instead of highlighting a new app for our App of the Week, we are going to look at 5 ways Kongregate can save Animation Throwdown before mobile gamers lose interest and move onto a new CCG.
Add sound clips - This is a main complaint in the Customer Reviews section of the App Store and gaming forums. Instead of licensing sound bites from the different shows, the characters just say their taglines in text. Players want to hear Roger insult Stewie, not read it.
Add more cards with different abilities - There is no deck building or gameplay strategy in Animation Throwdown. This is the biggest flaw of the game. All the cards are basically the same with a few slight variations on attack, defense and abilities. The major problem with card battles is that there is really no way to change the outcome. You can basically tell if you're going to win or lose by the third card played, and there is never anything in your deck to save you if you're losing. This is because there are no real ability cards, only cards that can enhance your character cards once per battle. In other CCGs there are spells and different enhancements that can change the outcome of a battle. This is not the case in Animation Throwdown, and it makes deck building boring. You just replace older cards with better cards as you advance in the game. Whoever has the best cards, or best draw is almost always going to win.
Add a real PvP mode
- There is a single player mode and an Arena mode in
Animation Throwdown
, but you don't really play other players. You just play their cards controlled by an AI. The pairing system is also bad. In the beginning Arena mode is too simple, but as you advance and unlock new characters your opponents get increasingly harder. The whole system is confusing, pointless and honestly quite boring.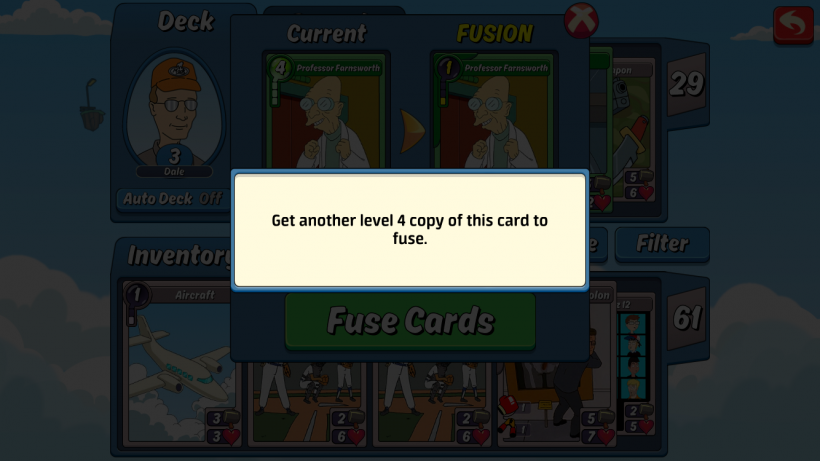 Fix the upgrading system - Upgrading your cards is also confusing and difficult. You need energy to upgrade your cards, but you can only earn energy by recycling cards, getting it randomly in a card pack or by completing quests. The main problem with the recycling system is that you need to fuse similar cards once you upgrade them 3 times. For example, you need to unlock two Professor Farnsworth cards, then upgrade them both to level 3 before you can upgrade them past level 4. This not only gets confusing, but it takes forever since the most affordable way to purchase cards is buying them one at a time for 1,000 coins. Not being able to upgrade your cards makes your deck too weak, which means you cant' advance in the game. This is one of the most frustrating aspects of the game, and the only way to avoid it is spend real world money. This system also makes you not want to recycle common cards, because you need doubles to fuse, but you don't get a lot of doubles in the first place. It's a real catch-22 and it sucks.
Upgrade your characters - In the beginning of the game you are allowed to choose a main character from one of the five television shows, but you can't upgrade this character. Your main character keeps the same max health and abilities no matter how much XP you earn in Arena mode. Instead of applying XP to one character to improve your health and abilities, you must unlock stronger characters to advance in the game. This sucks the fun out of grinding since the reward is kind of lame. You want to build your own character stats, not just unlock a new one.
Animation Throwdown: The Quest for Cards has a lot of potential, but the App Store is saturated with way better collectible card games. Hopefully Kongregate is receiving enough feedback and plans to improve the game with future updates. If not I'm afraid a lot of people are going to grow bored and move onto better CCGs.