Twitter went all out to stream the NFL's Thursday Night Football games this year, spending millions to obtain exclusive mobile streaming rights, beating out the likes of Amazon and Facebook. Ten Thursday night games will be streamed throughout the season, and you don't need a Twitter account to watch them.
If you have a Twitter account you can watch TNF via the Twitter app. In addition to its iOS app, Twitter has launched its app on the Apple TV, Amazon Fire TV and Microsoft's Xbox One as well. If you watch via the app, you can find the stream under the Moments tab every Thursday night at 8:25 PM Eastern.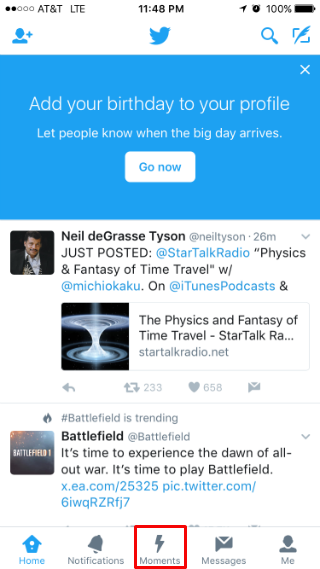 If you don't have a Twitter account you can still watch the games on your iPhone or iPad via Twitter's site: tnf.twitter.com.
Here's the lineup:
Week 2, Sept. 15: New York Jets at Buffalo Bills
Week 3, Sept. 22: Houston Texans at New England Patriots
Week 5, Oct. 6: Arizona Cardinals at San Francisco 49ers
Week 6, Oct. 13: Denver Broncos at San Diego Chargers
Week 7, Oct. 20: Chicago Bears at Green Bay Packers
Week 11, Nov. 17: New Orleans Saints at Carolina Panthers
Week 13, Dec. 1: Dallas Cowboys at Minnesota Vikings
Week 14, Dec. 8: Oakland Raiders at Kansas City Chiefs
Week 15, Dec. 15: Los Angeles Rams at Seattle Seahawks
Week 16, Dec. 22: New York Giants at Philadelphia Eagles