Submitted by Anders Batten on
The OLALA USB Flash Drive is a small aluminum device for transferring files from your iPhone or iPad to your computer. I'll leave why you may need a flash drive for your iOS device up to you, but if you're looking to make a purchase, OLALA offers a variety of options. All OLALA drives work with the iDisk me app available for free on the Apple App Store. Once the app is installed, you can connect your drive to your iOS device via the Lightning connector.
The iDisk me app looks simple at first, but it can be confusing to navigate. The app features a wheel of options for transferring photos, videos, music and documents. You can even access your device's camera from within the app. This allows you to automatically store any new photos taken through the app directly to the thumb drive to save on internal storage. I was able to figure out how to transfer photos and music rather quickly, but after testing the app for several times I still have no idea how to access the other file options, such as Music.
Once you allow the app to access your Photos, an "iPhone Album" option is added in the photos section of the app. You can then access your Camera Roll to transfer any photos stored on your device to the flash drive. The same goes for videos, but there is no such option for the other file options.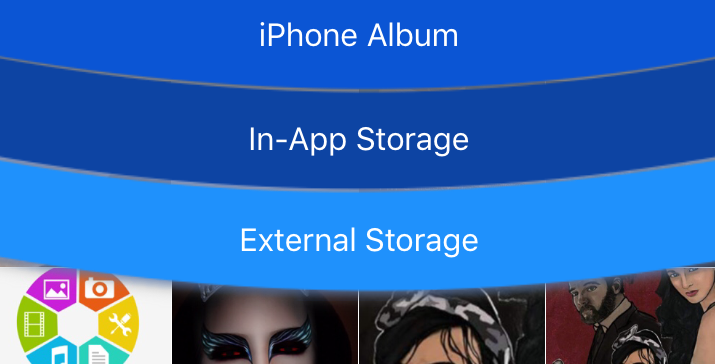 Transferring your stored photos to your computer is as easy as plugging the drive into a USB port. There is no need to install any software on your PC, just plug it in and off you go. The USB Flash Drive is compatible with Microsoft Win10/Win8/Win7/Vista, Mac OS 10 and it works with current Google Chromebook models.
The OLALA Flash Drive is a decent enough option if you're looking for external expandable storage for taking photos when a WiFi or cellular connection is not available. It can also help you save storage space on your device, and it is a cheaper option than paying a monthly iCloud storage fee. Having a small stick jutting from the bottom of your device is not the most desirable option, but the OLALA Flash Drive is lightweight (ID300 model at 11g) enough that it is not a huge issue. I hate having things in my pocket, but I wouldn't mind carrying this on a hiking trip or during other outdoor activities where I may want to snap a lot of photos.
The ID300 Flash Drive is equipped with a rotating metal cover to protect the Lightning connector from being damaged, and the device is Apple MFi certified. The Lightning write and read speeds are listed as up to 8MB/s and 15-25MB/s, and it offers up to 64GB of external storage. You can see a list of other avilable OLALA USB flash drives and specs here.