Submitted by Marshall Walker on
Facebook has unsuccessfully tried to copy Snapchat several times by launching a few failed apps, such as Poke and Slingshot, and today Mark Zuckerberg and team are at it again. This time instead of launching a separate app to copy Snapchat, the social media giant has just added a Snapchat-like feature to its Messenger app.
Starting today, all Facebook Messenger users will be able to send auto-disappearing photo or video messages to other users. Instead of instantly disappearing like Snapchat messages, Facebook messages will vanish after 24-hours. Facebook is calling the new feature Messenger Day.
Users can decide if they want to share their self-destructing messages with the entire Facebook community or individually selected friends and family. All Messenger Day posts will also include a Delete option in case a user wants to remove any photos or videos before they naturally expire.
To use the new Messenger Day feature you can tap the camera icon or the "Add to your day" button at the top of your Messenger app inbox. From here you can take a new photo or create a short video, then upload it by tapping the arrow in the bottom right corner. Users can also write and draw on their photos and videos by tapping the smiley face icon in the top right hand corner.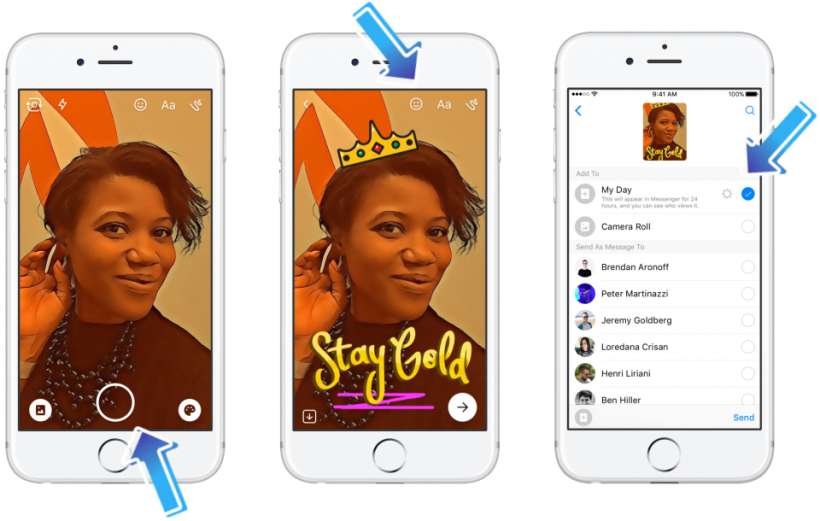 The feature has started rolling out globally today. If you do not see the "Add to your day" option you either need to update your Facebook app or it has not yet reached your area.
You can learn more about the new Messenger feature on Facebook's blog or visit the Facebook Help Center if you have any questions.
The Facebook Messenger app is available for free on the Apple App Store.