Submitted by Marshall Walker on
As expected, Facebook launched its second Snapchat clone after removing Poke from the App Store last month. The new app allows users to send photos and video clips that disappear after a user swipes them away. Facebook's app differs from Snapchat because it forces users to send images or videos before they can view any sent to them. Facebook has been desperately trying to recapture its younger users who have been leaving the company's main service in droves for trendier products such as Yo.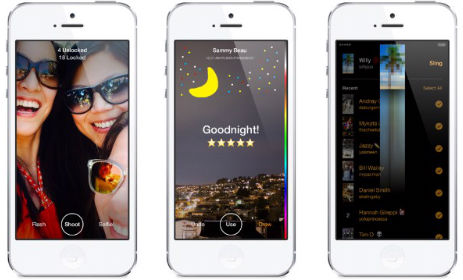 Unfortunately for Facebook, Yo is already surpassing it in the App Store rankings. The messaging app is currently ranked number 5 on the Apple's Top Free Apps Chart, while Slingshot is nowhere to be found. Yo saw a surge in popularity after the Finacial Times published an article about the app which allows users to send the word "Yo" to their contacts.
Reuters threw its weight behind iWatch rumors claiming "Taiwan's Quanta Computer will start mass production of Apple first smartwatch in July." According to sources, the watch will feature a 2.5-inch rectangular display and wireless charging. Apple is also reportedly reaching out to athletes such as Kobe Bryant to test the new wearable device.
Apple seeded iOS 8 beta 2 to developers on Thursday. You can see all the release notes and changes here.
Amazon got into the smartphone game after announcing the
Fire Phone
at a press event held in Seattle. The 4.7-inch handset is pre-loaded with Amazon services such as the newly launched
Prime Music
, and "Firefly" technology which allows users to use the device's built-in camera to buy products through Amazon.com. The Amazon Fire Phone will begin shipping on July 25, 2014 for $199 on-contract, and starting at $649 off-contract.
Apple has updated its App Store Review Guidelines to allow apps that accept virtual currency such as Bitcoin as long as they comply with all state and federal laws.
And finally, Apple launched an entry-level 21.5-inch iMac for $1,099 and reduced the price of Apple TV in Europe.