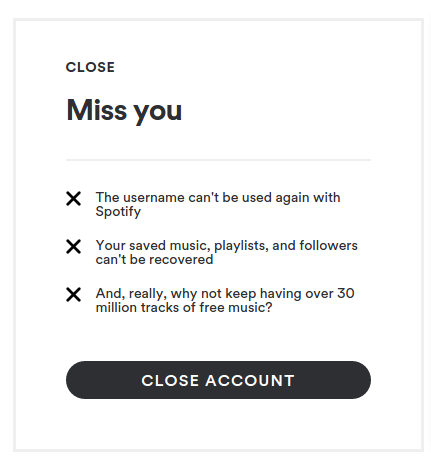 Spotify offers both a free and a paid tier to its music streaming service. Spotify Premium is $9.99 / month with a 30-day free trial. You can disable recurring Spotify payments by following these steps, or you can cancel your Spotify subscription by following the steps below:
Go to spotify.com on any device (Mac, iPhone, iPad, etc.).
Click or tap Log in
Sign in with the account you want to cancel.
Click or tap your user name.
Select Account from the drop down menu.
Click or tap Subscription.
Click or tap cancel your subscription.
You can permanently delete your account by visiting this page after you have logged in. Just follow the prompts to close your Spotify user account. Canceling your account will block access to your user name, and delete all your saved music, playlists and friends.