Submitted by Frank Macey on
iPhone and iPad users can now access the Alexa voice assistant on their iOS devices free of charge. The official Amazon shopping app previously supported voice queries, but now the company is rolling out Alexa within the app. Besides offering help with shopping, the in-app version of Alexa delivers almost all of the capabilities of Amazon's speaker devices such as the Echo, Dot and Tap.
To try Alexa on your iPhone, simply download the free Amazon App from the App Store. Once installed, launch the app and login to your Amazon account.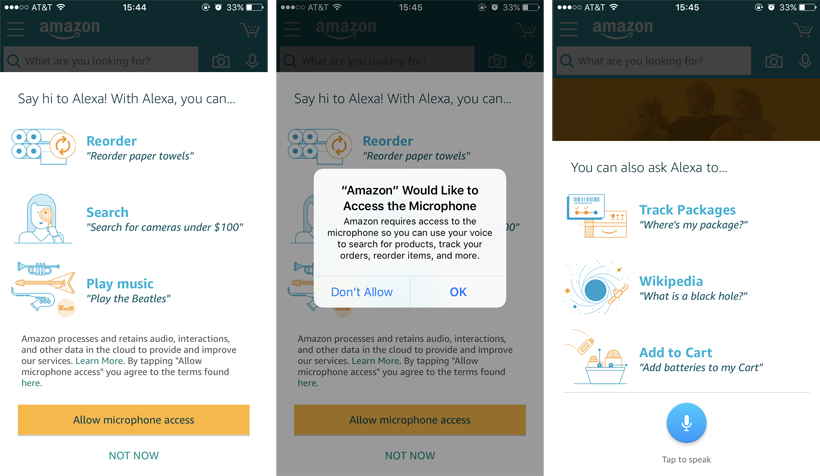 After Alexa is available in your area, tapping the microphone icon next to the Amazon search bar will prompt for permission to use the microphone. Once access is granted, Alexa will be available directly from the Amazon shopping app.
Alexa is capable of answering many shopping-related queries, including reorder requests, product searches and order tracking. In addition, Alexa offers Wikipedia access, word definitions, weather forecasts, sports scores, control of home automation devices and much more. iOS users an even ask Alexa to read Kindle books, play Amazon Music or tell jokes.
While there have been third-party apps providing access to Alexa in the past, now iPhone, iPad and iPod touch owners can enjoy official support for the voice assistant directly in the Amazon App for iOS.