Submitted by Bob Bhatnagar on
This September, PhoneSuit plans to release its MiLi Pro portable video projector for the iPhone and iPod Touch. The entire device folds up and has its own speakers and swappable battery.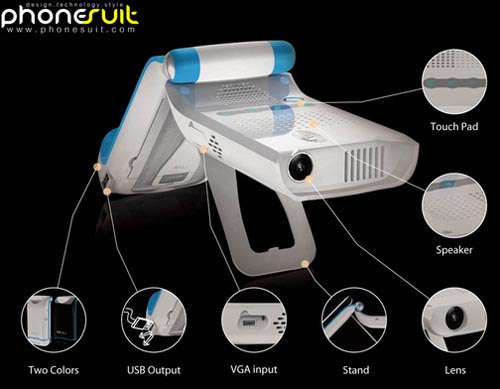 The iPhone or iPod Touch docks directly into the accessory. There's also a VGA or RCA input on the side of the miniature projector, allowing it to be used with a computer or DVD player, etc.
From the PhoneSuit website:
The MiLi Pro incorporates the latest in technology, an LCOS, LED driven micro projector. This ultra-compact projector fits in the palm of your hand. It has the capability to display 640x480 high resolution images on most any viewing surface. Use the focus wheel to fine tune your image quality. Scale your iPhone's video up to a 40 inch for screen for eye strain free, relaxed viewing.
The MiLi Pro will be compatible with the original iPhone, iPhone 3G, 3GS, iPod Touch, and iPod Classic.
Specifications:
Projector Screen Size is 5-70 inches. Optimal 40 inches
Brightness: 10 Lumens
Charging Time: 3 Hours
Max Resolution: 480P, VGA, 640x480
LED Lifetime: 20,000 Hours
AV Input Sources: iPhone / iPod Connector, RCA, VGA
Available in black and white colors
There's no word on the price yet, but when this hits the streets you can be sure that many reviewers will be testing the projection capabilities and battery lifespan of this interesting device. Time will tell if consumers find the MiLi Pro to be useful or not.