With all the bells and whistles Clips has to offer, including Title Cards, overlays, filters, Live Titles, and editing tools, it would still be lacking if it didn't let you add music to your videos. A social media app like Clips has to have music if it's going to compete or share media with the likes of Snapchat, Instagram and Facebook, so of course Apple wasn't going to leave that out. Clips lets you add a soundtrack from a built-in library of themes or add music from your own library. Here's how to do it:
Adding built-in soundtracks
First you want to select the project you want to work with. Open up Clips then select one of your projects by tapping on the down caret in the top left, then selecting one of your projects and tapping on "Open" at the bottom center. If you don't have any projects you can start a new one.

Now tap the music note icon in the top right and select "Soundtracks."

Now you will see a list of about 40 soundtracks from a variety of categories including Pop, Playful, Chill, Sentimental, Retro, Action, and Holidays & Events. You can preview tracks by tapping on them (tracks with a cloud to the right just mean they haven't been used before and need to download for the first time, which only takes a second). If you like the track tap on it again to select it, you'll see a blue check mark when it is selected.

Once you have your track, tap the back button in the top left. Now you can preview the soundtrack with your video by tapping the play button. If you like it, tap done in the top right and you are finished, the soundtrack is added to your project. If you want a different one just tap on the Soundtracks menu at the bottom and choose a new one.
Adding music from your library
Follow steps one and two from above but select "My Music" instead of "Soundtracks."

Navigate through your library to find the song you want, when you have it, tap the plus sign next to it.

Now you are at the preview screen. Tap play to preview your song playing with your clip. If you like it tap "Done" in the upper right. If not, select another song or soundtrack with the menus at the bottom.
To remove a soundtrack or music from one of your projects, simply open the project, tap on the music note icon in the top right, tap on "None" then tap "Done."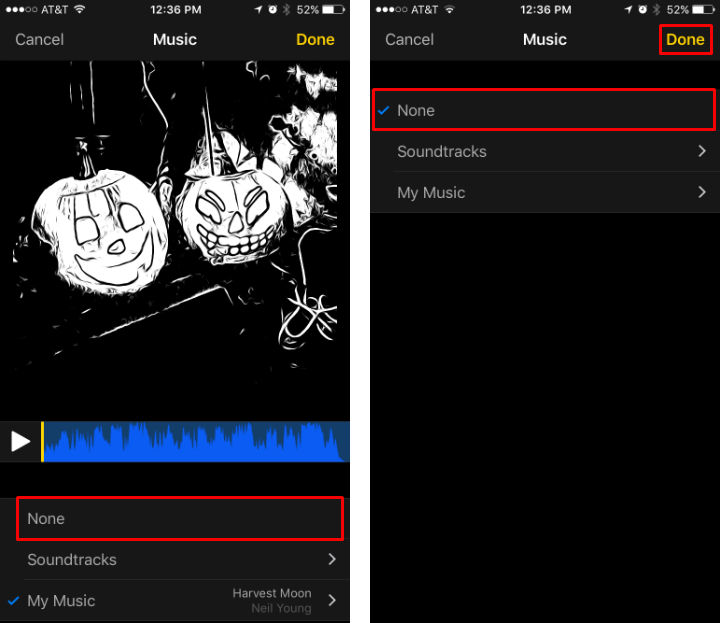 Aside from adding a soundtrack to your project you can also: