Submitted by Marshall Walker on
Pluto TV is a free, commercial-supported linear television service for cord cutters. It is best used on Apple TV, Roku or the PlayStation, but there is a mobile version available for watching television on your iPhone or iPad. Pluto offers a variety of free live channels including major news sources such as NBC News & MSNBC, Sky News and The Weather Network. It also includes a variety of specialty channels like Pro Wrestling, Stand Up and the Crime Network.
You don't need anything but a supported device to get started. There is no logging in with your Facebook or passwords to remember. You just download the app and start watching . Pluto TV is provided like any standard cable television menu. You can minimize the current television show or movie you are watching while you surf the different channels, then you can select whatever you want to watch in full screen. This includes the news, television shows, cartoons and even hit movies.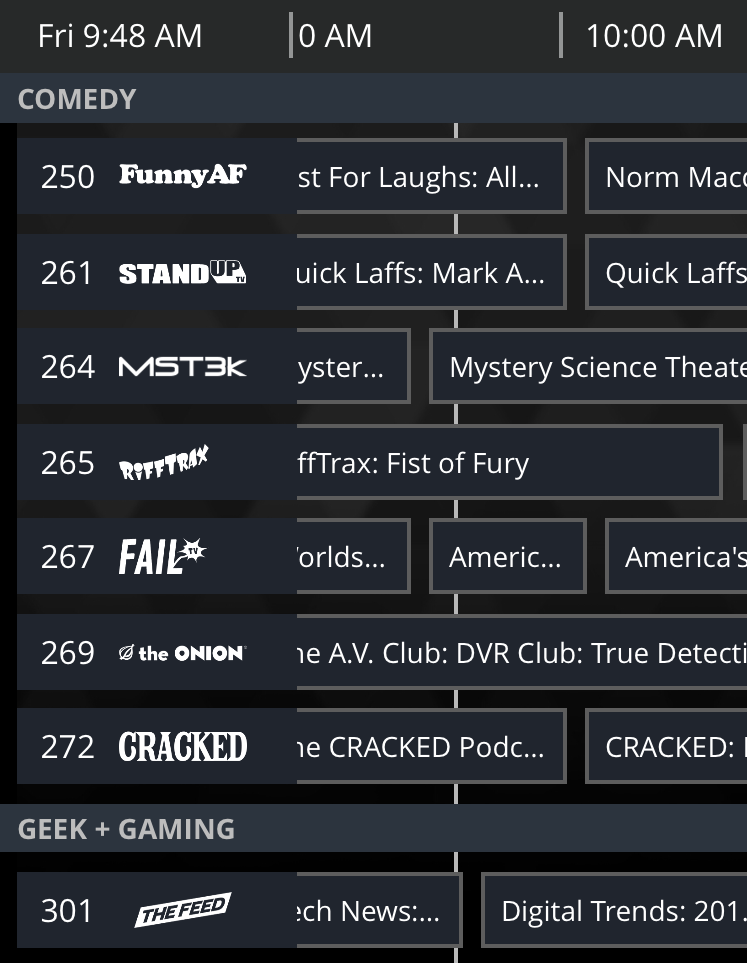 Pluto TV not only gives you the retro feel of old school cable from the 80s and 90s, but it offers an alternative to Netflix and other on-demand streaming services. Sometimes having limited choices is better since it forces you to watch something you may have not chosen on your own. Pluto TV is really proud of their news offerings, but it is also a goldmine for late night TV watchers with its retro movies and cartoons. You can go from watching UFC highlights to episodes of The Weird Al Show to classic monster movies.
Pluto TV is also a bit like interdimensional cable from Rick and Morty. While there is nothing as outrageous as Real Fake Doors or Ants in my Eyes Johnson, there are channels such as Slow TV and Eye Candy. These specialty channels make you feel like your are participating in the episode Rixty Minutes. For example, Slow TV is just POV shots of someone riding trains with no or very little commentary.
The best part about Pluto TV is its potential. It already has a great selection of classic TV, movies and internet-based programming to choose from, but it could add so much more. There are a variety of free streaming services and independent film studios Pluto could partner with to make itself even better. These include Comet TV, the Monster Channel and even some YouTube creators could decide move their content to Pluto now that ad revenue has sunk on Google. Pluto has also partnered with Hulu and
recently signed deals with
Lionsgate, MGM and Warner Bros..
Pluto TV is available for free on the Apple App Store, Apple TV, Google Play, Roku and PlayStation 4. It supports all devices running iOS 9.0 or later. It is a must have for cord cutters who miss linear television, and a great alternative for when you're tired of Netflix surfing.