Submitted by Frank Macey on
Apple is expected to reveal the special-edition iPhone 8 alongside the iPhone 7s and iPhone 7s Plus this fall. More photos have leaked, this time of three metal molds, which can be used by third-party accessory manufacturers. It's clear from the images that each iPhone will require a different case, since the iPhone 8 is slightly larger than the iPhone 7s, and smaller than the 7s Plus.
The iPhone 8 mold matches the recent mockup photos confirming a stainless steel chassis and vertically oriented dual camera. @VenyaGeskin1 not only posted the photos, but commented it's "100% confirmed the Touch ID will not be placed on the back" of the iPhone 8. Instead, a larger power button revealed on the mold has some speculating that Touch ID could be integrated directly into this button on the side of the device.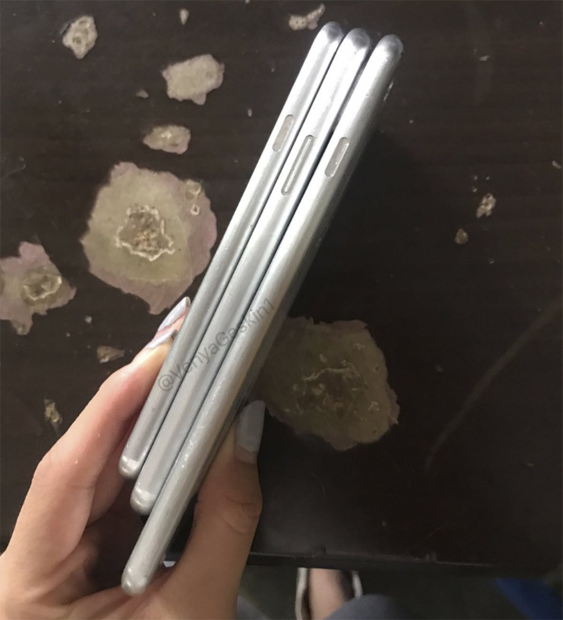 In any case, Apple looks to be abandoning the home button by making the front of the iPhone 8 an unbroken sheet of glass. Wireless charging will almost certainly make its iPhone debut, as the back of the iPhone 8 is also glass. This sandwich design is similar to the iPhone 4 and 4S. This fall, Apple's flagship smartphone, also known as the iPhone Edition or iPhone X, is said to include facial recognition and an OLED display.
Even though the iPhone 8 is only slightly larger than the iPhone 7s, the OLED screen will cover more real estate thanks to thinner bezels and an edge-to-edge design. Not only this, but picture quality and battery life should be improved compared to the LED backlit LCD technology used in current iPhones. The iPhone 8 will feature other internal upgrades, such as the next generation A11 processor and improved waterproofing.