Submitted by Thomas Estilow on
Just when you thought you didn't need anything else for your iPhone 3GS, along comes Zacuto with the must-have video accessory of the century. Behold, the ZGrip iPhone PRO.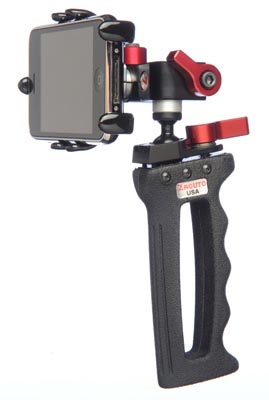 This professional grade videographer pistol grip secures the iPhone 3GS and provides a firm, stable platform for shooting hours of video. An optional tripod attachment is compatible with the ZGrip iPhone PRO and allows you to hook the entire setup to your own tripod.
Zacuto claims the ZGrip iPhone PRO is the first product of its kind, and lists these features:
Unique to the market
Completely adjustable
iPhone 3GS snaps into the ZGrip cradle
Quick releasable handgrip system
Mountable lights or microphones available
Tripod mount available
The device comes at a price tag of only $295. Add an extra $50 for the tripod attachment.
The company is currently working on a less expensive version, dubbed the ZGrip iPhone Consumer. Zacuto plans for this version to have less adjustable features to meet the lower price point.
Zacuto is the leading indie camera accessories maker in the professional market. All Zacuto products are designed and made in the USA and have a lifetime warranty.