Submitted by Marshall Walker on
The hunt for Star Wars characters will kick off at 12:01 a.m. PDT (3.01 a.m. ET) on Sept. 1 in over 20,000 retail locations across 30 different countries, according to Reuters. The new Disney-sponsored promotion will allow fans of the Sci-Fi franchise to interact with different Star Wars characters, such as Rey or Chewbacca, at different retail locations across the US.
The event, to get people in stores to purchase upcoming Last Jedi merchandise, will use augmented reality technology to display Star Wars characters at participating retail locations, like Apple, Wal-Mart, Target, Best Buy and more. Shoppers will be able to take photos or videos of the characters using their smartphone cameras and share them on social media. 5 new characters and collectible data chips will be introduced every day.
iOS users can participate by first downloading the Star Wars app from the Apple App Store. The app can then be used to scan the Find the Force graphic on The Last Jedi displays at any of the retail locations. Scanning the graphic will unveil the augmented characters for that day and retail store. The characters will be overlaid on the store surroundings so users can interact with them using their smartphones.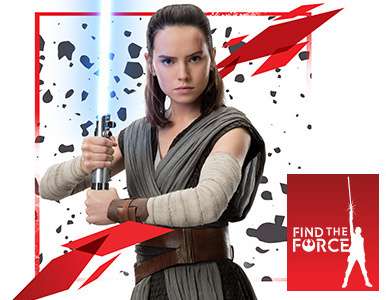 The 3-day event will tie-in with "Force Friday II" when retailers begin selling Last Jedi-related merchandise. You can learn more about the upcoming promotion by watching the video below or by visiting the official Find the Force website.
Some augmented characters and
Last Jedi
merchandise will also be offered online.
The Last Jedi lands in theaters on December 15th.