Submitted by Marshall Walker on
After a not so great stab on the NES, Jason Voorhees has become quite the video game star in the last couple of years. The masked madman made his triumphed video game return in Friday the 13th: The Game for the PC, PS4 and Xbox One last year, and now he's back, but this time on the Apple App Store. From the makers Slayaway Camp comes Friday the 13th Killer Puzzle -- another swiping game where you take on the role of the iconic Camp Crystal Lake killer.
In Killer Puzzle you kill camp counselors by sliding Jason around on an isometric game board. The goal of the game is to kill all the other characters in the least amount of moves. This may sound a bit boring, but developer Blue Wizard Digital didn't just dump out another lackluster movie tie-in. Not only is this an officially licensed title, but the game goes the extra mile by including fun cut scenes, reflex-based kill scenes where you dispatch final girls and great graphics.
The game includes different locations like classic campgrounds, to other Jason stomping grounds, such as Manhattan, and even outer space. You can also unlock a variety of classic Jason looks, and others specifically created for the game, like Apocalypse Jason and Medieval Jason.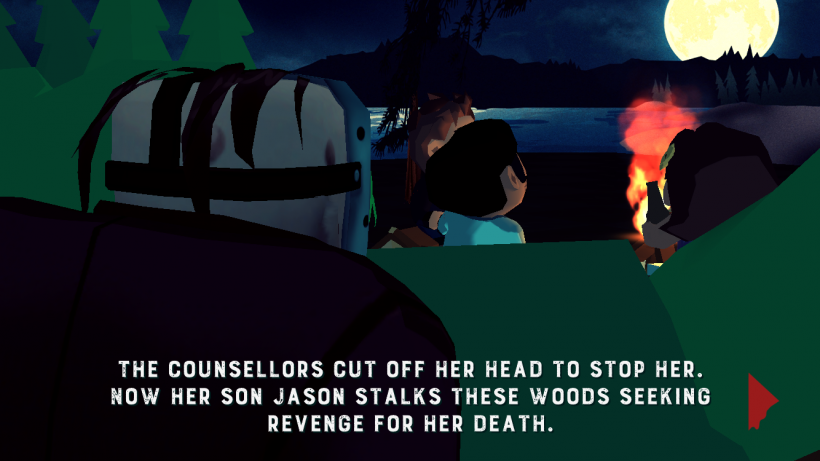 There's lots going on in this puzzle game to keep it interesting. Mom is there to give you encouragement and supply tips when you need help, and there are 8 different episodes with over 100 puzzles to solve. You get to slash and hack all types of people while avoiding different hazards like drowning in the lake. You can also unlock new weapons, find creative ways to kill counselors, like chasing them into camp fires, and level up by collecting Blood Lust.
The game includes an R-rated and PG family friendly mode, a Murder Marathon mode and a Daily Death challenge to unlock rare items.
Unlike other lazy movie tie-ins, Friday the 13th Killer Puzzle pays great homage to the long running movie franchise and the legacy of Jason Voorhees. Fans of the films will love the game, and it will also be enjoyed by anyone who likes puzzle titles like Lara Croft GO.
Killer Puzzle is available of the US App Store for free today. It will launch worldwide on April 13. It will also be available on Android and Steam.