Submitted by Bob Bhatnagar on
Looks like mSpot has beaten Netflix to the punch. mSpot Mobile Movies will stream movie rentals to your iPhone or any of 30 compatible mobile devices. The movies are delivered over Wi-Fi or 3G connections on demand.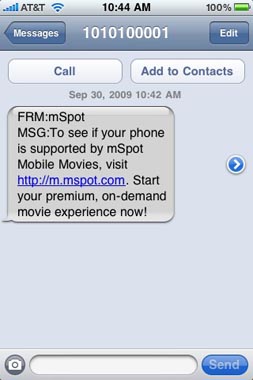 To test your mobile device for compatibility, mSpot sends a text message with a link to the service (iPhone users can enter the URL directly into Safari). Movie Club members can purchase credits that expire at the end of the month if unused. A more expensive option is a one-time rental of $4.99. The movie can be watched for 24-48 hours depending on the film.
Over 350 movies are available with thousands coming by the end of 2009. mSpot plans to take advantage of its agreements with major picture studios including Universal, Paramount and Weinstein Co.
An unlimited data plan with your wireless carrier is a must, considering the large bandwidth requirements to stream movies. For now, movie rentals will only be available in the US. AT&T requires its iPhone customers to carry an unlimited data plan.
Joining the Movie Club and using pre-paid credits can provide up to eight rentals for $15.99 depending on which films are selected, although some movies are not available at the discounted price. There's no charge to cancel membership.
All users can watch movie trailers for free. mSpot Mobile Movies uses Safari to browse titles and launches the iPhone's native video player when a movie is selected.
Will iPhone owners pay to watch movies on a little screen and risk complete battery annihilation? You can be sure that Netflix will be watching mSpot closely in the coming months.