Submitted by Bob Bhatnagar on
Looks like mSpot has beaten Netflix to the punch. mSpot Mobile Movies will stream movie rentals to your iPhone or any of 30 compatible mobile devices. The movies are delivered over Wi-Fi or 3G connections on demand.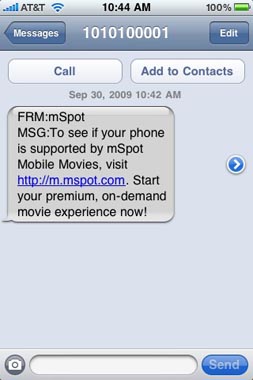 To test your mobile device for compatibility, mSpot sends a text message with a link to the service (iPhone users can enter the URL directly into Safari). Movie Club members can purchase credits that expire at the end of the month if unused. A more expensive option is a one-time rental of $4.99. The movie can be watched for 24-48 hours depending on the film.