Submitted by Bob Bhatnagar on
Rickrolling has finally made it to the iPhone. The first known iPhone worm has been released in Australia, spreading from phone to phone over the network. Only jailbroken iPhones running SSH with the default root password are affected.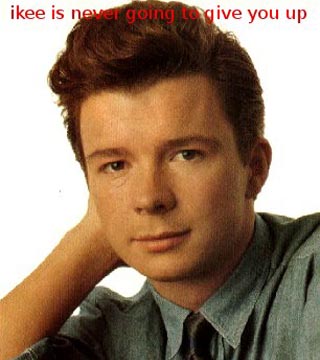 The ikee worm exploits this security weakness to infiltrate the iPhone file system and search for other jailbroken iPhones in the vicinity. The malware also changes the lockscreen wallpaper to a photo of 80s pop icon Rick Astley with the message "ikee is never going to give you up."
The author of the worm, Ashley Towns has already spoken to the media, and claims the prank was to raise awareness of the much-overlooked security loophole. After his iPhone personally infected around 100 other phones, the ikee worm spread.
There have been no reports of the ikee worm outside of Australia. Users running SSH on a jailbroken iPhone should follow these instructions to change their root password immediately.
The current four known variants of ikee are relatively harmless, however the code could be adapted to compromise personal data in the future. Changing the background is a temporary solution, since the ikee worm will reinstall Rick Astley on every reboot.
The ikee worm can be permanently removed by deleting several files using the Terminal app.
Rick Astley is known for his 1987 hit "Never Gonna Give You Up." Rickrolling is a popular prank where links to videos on the Internet are mislabeled and point to clips from the music video to this song, tricking the viewer.