Submitted by Bob Bhatnagar on
We've been covering the iPad for some time now, since the tablet is so closely related to the iPhone. Now that the product is a reality, a brand new resource for everything iPad has just launched. The iPad Guide went live shortly after Steve Jobs announced Apple's highly-anticipated tablet computer this Wednesday.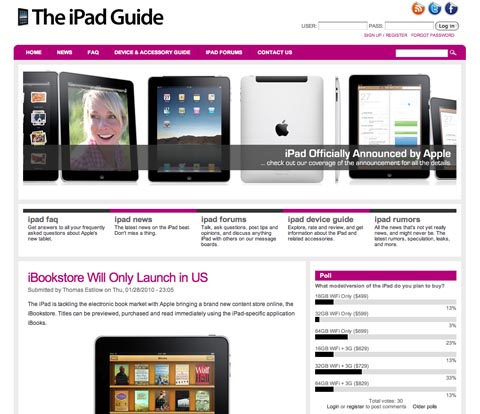 One highlight of The iPad Guide is a section devoted to frequently asked questions (FAQ) about the tablet, its capabilities, and its accessories. With the initial ship date almost two months away, plenty of details about the iPad are sure to be revealed every day.
The iPad Guide will deliver the latest iPad news as it breaks, along with relevant tips, tricks and pointers to help you purchase and get the most out of Apple's latest creation. For help and discussion, check out the iPad forums. Readers can post information, questions and opinions about the iPad hardware, software, apps and games.
The buzz around the Apple iPad is only just beginning. As accessories and add-ons are developed The iPad Guide will have the scoop on all of the best products and reviews.