Submitted by Bob Bhatnagar on
Now you can turn your iPhone into a customizable universal remote control without using a dock or attaching a dongle. POWER A has developed a slide-on iPhone case that conceals infrared hardware in a sleek package.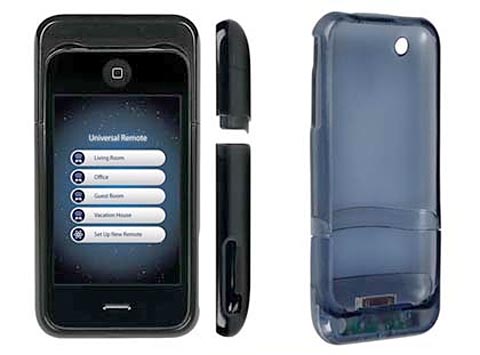 After putting the case on your iPhone the bottom end becomes the top of your remote control. Just run the free application called POWER A Universal Remote and control all of your devices.
The application is customizable and will automatically update itself with new infrared device profiles as they are added. The POWER A iPhone Universal Remote Case is compatible with 3G and 3GS models and will cost $60.
Unfortunately, the simplicity of this design has one major flaw. When you're ready to charge or sync your iPhone the case will have to come off.
Features of the POWER A iPhone Universal Remote Case:
- Control infrared (IR) devices with your iPhone
- Replace all your existing remotes
- Control multiple devices from one screen
- Free app is easy to customize with point-and-click programming
- No additional hardware, dongles, or docks are required
- Slim, smooth, two-piece hard case protects phone and looks great
- Built-in IR transmitter is portable and detachable
- Free app updates and enhancements coming soon