Submitted by Bob Bhatnagar on
The Apple iPhone has done it again. After winning the first touch screen battle earlier this year, a new robotic test by MOTO Development Group proves that when it comes to accuracy the iPhone can't be beat. For this test MOTO added two more devices to the lineup, the Palm Pre and BlackBerry Storm 2.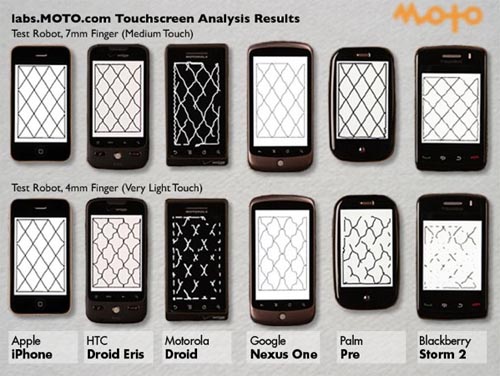 Google's Nexus one came in second place, with the Motorola Droid exhibiting the worst performance during the test. Two different sized robotic "fingers" were used at two different pressures to see which screens had the most accurate response. The iPhone showed a little bit of inaccuracy around the edges in the light pressure test, however it was light years ahead of the competition.
The straighter, cleaner continuous lines indicate better performance in the test, and squiggles or breaks show weakness in sensitivity. MOTO received feedback on the first test, which used a human finger and was not as standardized as the robot pattern drawing method.
MOTO points out that results from complete isolation of touchscreen performance doesn't necessarily equate to a good or bad user experience. The touchscreen is integrated along with the user interface and operating system to produce a satisfying user experience overall.
The phones compared included the Apple iPhone, Google Nexus One, Motorola Droid, Palm Pre, HTC Droid Eris, and BlackBerry Storm 2. Drawing software apps used for the test were:
- Blackberry Storm: Canvas
- iPhone: SimpleDraw
- Droid Eris, Droid: DrawNoteK
- Palm Pre: Super Paint
- Google Nexus One: SimplyDraw
Find more details including video at the MOTO labs blog.