Submitted by Thomas Estilow on
Getting an iPad on April 3rd? Well even if you haven't pre-ordered, free accessories are always welcome. The iPad Guide has just announced their April Accessory-A-Day Giveaway. With the ship date for Apple's iPad only hours away, cases, screen protectors, and insurance are sure to be in demand. The iPad Guide is offering a free product every weekday this month for contest entrants.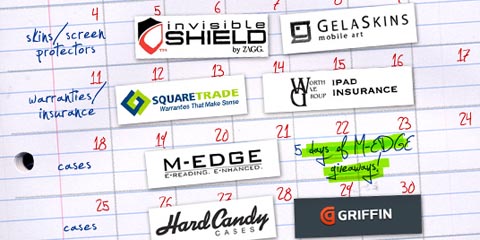 The contest features several iPad accessories including body skins, screen protectors, iPad insurance, iPad warranties, stands and cases. Featured products come from popular companies including M-Edge, Hard Candy, Griffin Technologies, ZAGG, Gelaskins, SquareTrade, and Worth Ave Group.
Readers have up to 10 chances each day to enter the contest, maximizing the probability of a win. Throughout the month, the iPad Guide will announce different ways that readers can earn additional entries for specific accessories, increasing the chances of a free accessory shipping to their doorstep. Entry in the April Accessory-A-Day Giveaway is free and entails no obligation whatsoever. Your email will never be sold or traded for other purposes.
More details on the iPad products included in the contest can be found in the iPad Guide's iPad Accessory Guide. Readers can view details and specifications on many of the latest iPad accessories, see photos, and rate products and find other reviews from around the web all in one place at the iPad Accessory Guide.
If you're getting that iPad and you're looking for an opportunity to win some free accessories, check out the full contest details for the
April Accessory-A-Day Giveaway at the iPad Guide
.