Submitted by Bob Bhatnagar on
Just got that iPad 3G off the FedEx truck? How about entering to win some free accessories? Six days a week during the entire month of May, The iPad Guide is offering a May iPad Accessory-A-Day Giveway. Cases, screen protectors, insurance policies and more were given away to winning contestants across the US last month. Now it's your turn.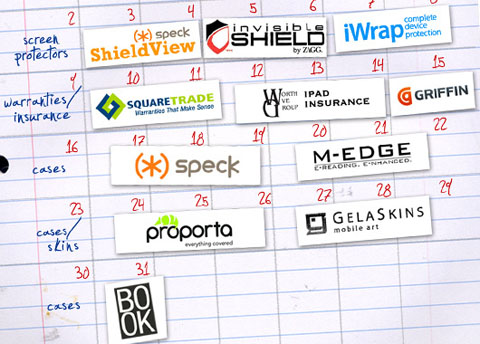 Featured products in May come from M-Edge, Hard Candy, Griffin Technologies, ZAGG, Gelaskins, SquareTrade, Worth Ave Group, Speck, Proporta, BOOK and iWrap. Readers have up to 10 chances each day to enter the contest.
During the month of May, The iPad Guide will announce different ways that readers can earn additional entries for specific accessories, increasing the chances of a win. Contest entries are private and require no obligation, except to pick up free accessories when they arrive on your doorstep!
Entry in the May iPad Accessory-A-Day Giveaway is completely free and your email will never be sold or traded for other purposes.
More details on the products included in the May contest can be seen on The iPad Guide's
iPad Accessory Guide
. Interested parties can view details and specs on the latest iPad accessories, see photos, rate products and find other reviews from around the web all in one place.