Submitted by Bob Bhatnagar on
Steve Jobs officially showed off the iPhone 4 today at WWDC 2010. He described the iPhone 4 as the "biggest leap" since the iPhone was first released in 2007. Although photos of the new iPhone have been seen already, the design is quite impressive.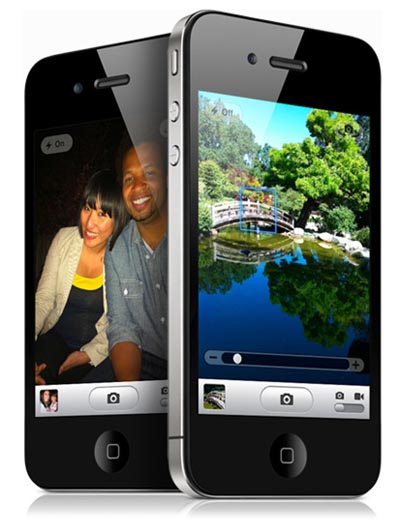 Antennas are integrated into the stainless steel frame of the new iPhone and aluminosilicate glass that's 30 times stronger than plastic makes up the front and back surfaces of the device. The iPhone 4 is 24 percent thinner than the iPhone 3GS.

Apple has pulled out all the stops in engineering the iPhone 4 with new hardware, sensors, and operating system features to give the competition a run for its money. The battery is larger and iPhone 4 relies on the highly efficient A4 processor.
A front camera at VGA resolution (640 x 480) has been added for FaceTime, Apple's Wi-Fi video chat software. The rear camera has been upgraded to 5 megapixels and includes a light sensor and LED flash built-in. A second microphone on top of the device helps the iPhone 4 reduce background noise during calls.
Specification Highlights
- Retina display: 960 x 640-pixel resolution IPS screen at 326 ppi (800:1 contrast ratio)
- Up to 7 hours talk time on 3G, 14 hours on 2G
- 300 hours of standby time
- Up to 6 hours of data usage on 3G, 10 hours on Wi-Fi
- Up to 10 hours of video playback and 40 hours of audio playback
- 5 megapixel camera with LED flash
- 720p HD video recording at 30 frames per second
- Faster 802.11n Wi-Fi
iOS 4 and Apps
Several new features are coming to the operating system, renamed from iPhone OS 4 to simply iOS 4. Users of iOS 4 will be able to run several applications simultaneously as well as organize app icons into folders on the home screen. Mail has new features to combine threads and combine multiple inboxes.
Thanks in part to the sharp display, iBooks is coming to the iPhone 4 for free. According to Apple, the high density 326 pixel-per-inch screen will have the clarity of printed text. iBooks itself has been upgraded with its own full-featured pdf reader. Books purchased on the iBookstore will sync wirelessly on other Apple devices with iBooks.
Video calling with FaceTime software works between any two iPhone 4 units over Wi-Fi with no setup required. Callers can also send the person at the other end of the line video from the rear-facing camera or switch off video during the call. FaceTime uses
Apps that are not designed for the higher-resolution Retina Screen will automatically be rendered in an optimum way by iOS 4, with no intervention by developers. Developers can, of course, increase the clarity of their apps even further by taking advantage of the improvements in the iPhone 4 display.
720p HD video recording at 30 frames per second is complemented by the iPhone app version of iMovie. iMovie will be available in the App Store for $4.99 and makes it possible to edit and enhance videos entirely on-the-go and export them to different size files. The LED flash helps to illuminate a video or photo and thanks to the 5 MP resolution, a 5x digital zoom is now included.
iAd will launch July 1st and make it possible to have in-app advertisements that are interactive. Developers share the revenue and users never have to leave the app to explore features or video embedded within iAd content.
Bing will be added as a search engine option and Netflix will be releasing an iPhone app that will make it possible for subscribers to watch instant viewing titles or reorganize their movie queue.
Sensors and Location Services
- Three-axis gyroscope
- Accelerometer
- Proximity sensor
- Ambient light sensor
- Assisted GPS
- Digital compass
The addition of a three-axis gyroscope means the iPhone 4 is more aware of its position and velocity than ever before. In combination with the accelerometer, the gyro provides 6-axis motion sensing for games and other apps. According to Jobs, it's the first time a gyroscope has been placed in a mobile phone.
Incredible Statistics
Steve Jobs also rattled off some interesting stats regarding iOS devices. Apple has come a long way since the 2007 launch of the original iPhone:
- Over 150 million user accounts in iTunes, iBookstore and App Store
- 100 millionth iOS device will be sold this month
- iPhone has 28% of the US smartphone market
- iPhone has 58% of US mobile browser traffic
- Apple's iPad already has a 22% share of ebook sales in the US
- 225,000 apps are available in the App Store
- 15,000 apps are submitted to Apple every week
- 95% of apps are approved within one week
- iOS 4 features 1500 developer APIs
- iOS 4 includes over 100 new user features
Pricing and Availability
The iPhone 4 will be available in the US and four other countries (France, Germany, Japan, and the UK) for pre-order June 15 with shipping on June 24. AT&T is offering early upgrades, and subsidized pricing will be $199 for the iPhone 4 16GB model and $299 for 32GB of storage. An 8GB version of the iPhone 3GS will cost $99.
Two colors of the iPhone 4 will be available, white and black. Jobs also introduced iPhone 4 cases called "Bumpers" that come in six colors and are made of rubber and molded plastic.
Apple will distribute the iPhone 4 to 18 additional countries in July. The free iOS 4 firmware update comes to iPhone 3G, 3GS, and iPod Touch users on June 21st. iPad users can expect iOS 4 to come to their devices in Fall 2010.