Submitted by Bob Bhatnagar on
Apple claims to have sold over 600,000 iPhone 4 units in just over a day. Customers struggled to pre-order yesterday as online systems failed and eligibility verification was inaccessible for hours at a time. The mad rush for the next generation iPhone has resulted in shipping delays and the complete suspension of AT&T Wireless pre-ordering.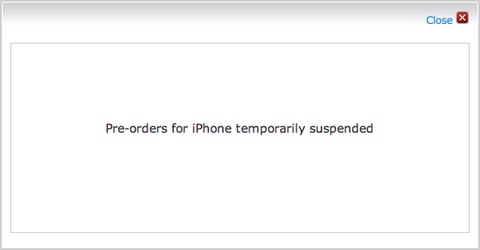 Apple now lists the iPhone 4 as "Shipping by July 14," a full three weeks later than the original June 24 release date. Apple retail stores will open on June 24 at 7:00 am across the country, however it's first come first served and if the online demand is any hint, the lines could rival those of the original iPhone.
AT&T Wireless simply posted a message, "Pre-orders for iPhone temporarily suspended." Company representatives would not comment on whether or not the supply of iPhones set aside for pre-order was officially exceeded, but AT&T did say that customers ordering the iPhone 4 could expect to see shipping June 25 or later.
If Apple's website is any indication, "later" means three weeks later. If you're one of the lucky 600,000 customers who successfully pre-ordered the iPhone 4, you'll be receiving your device on June 24. For those users with older iPhones, you'll have to make due with the iOS 4 firmware update on June 21 while you wait for your iPhone 4 to be manufactured.
Apple and AT&T admitted that demand far exceeded expectations and they apologized for users' frustrations. AT&T reported that there were 10 times more iPhone 4 pre-orders than iPhone 3GS pre-orders this time last year. The company served a record 13 million upgrade eligibility requests on Tuesday alone.
Apple and AT&T servers collapsed due to unsustainable demands on their webservers, resulting in outages and disconnections for many users seeking the iPhone 4. Get out your tent and camp in line if you still want to buy the iPhone 4 on June 24. Otherwise be prepared, as orders continue to come in it could take three weeks or more for stocks to replenish.