Submitted by Chad Shmukler on
Some months ago, Apple and AT&T changed their policy regarding the purchasing of the Apple iPhone to disallow cash and require a credit card. This move by the partnering companies was made in order to reduce or eliminate the number of untraceable iPhones that were purchased in order to be hacked and/or unlocked and sold on the gray/black market. What many did not realize was that this policy change also excluded the use of gift cards for the purchasing of iPhones as well. Well, sort of.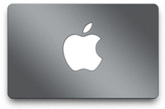 Whether you're planning to give an Apple gift card as a gift intended to be used to purchase an iPhone, or are expecting to receive one for the same purpose, be sure to read on and make yourself aware of Apple's policy regarding the use of Apple gift cards for iPhone purchases both online and at retail locations. You should not be getting turned away when attempting to purchase an iPhone with Apple gift cards.