Submitted by Marshall Walker on
iOS 6 is now available for download. The new update adds over 200 new features to the iPhone, iPad and iPod touch. You can upgrade to iOS 6 by going to Settings > General > Software Update, or you can update via iTunes. Some of the more talked about and bigger upgrades include Apple's new 3D mapping technology, turn-by-turn navigation, the Passbook app, and some improvements to Siri. Here are four other smaller but helpful features you will also enjoy.
Dismiss call with message
iOS 6 allows you to be a little more polite when ignoring phone calls. Instead of sending someone directly to voicemail, you can now decline a call by using one of three default messages (I'll call you later, I'm on my way, What's up?), or by creating your own. Just swipe up from the display during an incoming call to access the new feature.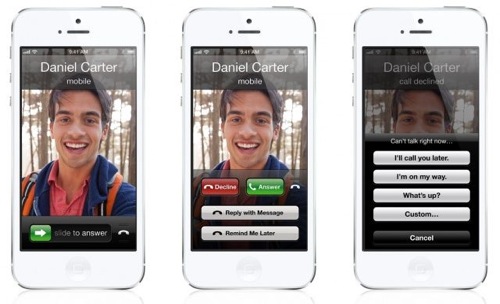 Do Not Disturb
Jailbreakers have had the option to add a "Do Not Disturb" toggle switch to their Settings for quite some time. Now non-jailbreakers can join the party with Apple's official version. The iOS 6 Do Not Disturb toggle allows users to switch off notifications during certain times. For example, you can stop receiving notifications while you're sleeping or while you're at work. This option also allows you to block incoming calls when you do not want to be disturbed. The "Do Not Disturb" switch is located under Settings.