Submitted by Marshall Walker on
iOS 6 is now available for download. The new update adds over 200 new features to the iPhone, iPad and iPod touch. You can upgrade to iOS 6 by going to Settings > General > Software Update, or you can update via iTunes. Some of the more talked about and bigger upgrades include Apple's new 3D mapping technology, turn-by-turn navigation, the Passbook app, and some improvements to Siri. Here are four other smaller but helpful features you will also enjoy.
Dismiss call with message
iOS 6 allows you to be a little more polite when ignoring phone calls. Instead of sending someone directly to voicemail, you can now decline a call by using one of three default messages (I'll call you later, I'm on my way, What's up?), or by creating your own. Just swipe up from the display during an incoming call to access the new feature.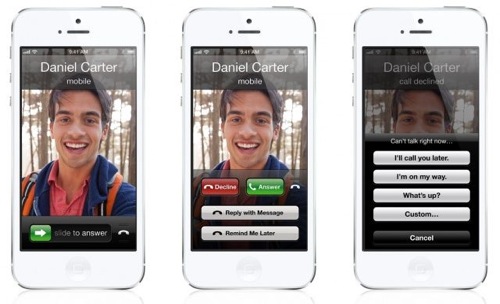 Do Not Disturb
Jailbreakers have had the option to add a "Do Not Disturb" toggle switch to their Settings for quite some time. Now non-jailbreakers can join the party with Apple's official version. The iOS 6 Do Not Disturb toggle allows users to switch off notifications during certain times. For example, you can stop receiving notifications while you're sleeping or while you're at work. This option also allows you to block incoming calls when you do not want to be disturbed. The "Do Not Disturb" switch is located under Settings.
Reminders
Swiping up during an incoming call not only allows you to decline the call politely, but it also allows you to set a reminder to call the person back. The reminder option is also location based so you can set it to remind you when you leave home or work.
Easier Social Networking
iOS 6 allows users to upload photos directly to Facebook via the Photo app, post to Twitter and Facebook via the Notification Center, and use the "Like" button while in the iBooks and iTunes stores.
Siri
iOS 6 also brings a few improvements to Siri. The voice assistant can now search for restaurants based on price, seating availability, location and cuisine, plus pull up Yelp reviews and make reservations via OpenTable. Siri can also now find movie times, pull up movie ratings or trailers, and look up sport scores, schedules and other sports related info.
Remember, there is no jailbreak for iOS 6. If your device is currently jailbroken, and you would like to keep it that way, do not upgrade! iOS 6 also removes the stock YouTube app. You can download the new standalone YouTube app from the App Store.