Submitted by Bob Bhatnagar on
Looking for more ways to improve your jailbroken iPhone? Many applications are available that expand the features and functions of your iPhone beyond what Apple allows. Tethering is one such function that makes it possible to use your 3G data connection to create a Wi-Fi hotspot for other devices. AT&T has finally made an official tethering solution available, but many customers don't want to pay the extra expense.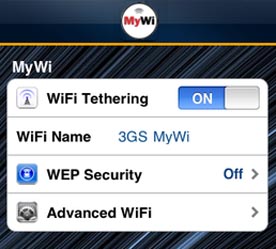 Enter MyWi 4.0. This jailbreak app creates a Wi-Fi hotspot instantly and allows multiple notebooks or other devices to use the iPhone data connection. USB tethering is also an option, and the Wi-Fi network you create will feature WEP security.