Submitted by Marshall Walker on
T-Mobile plans to start addressing users who are abusing their unlimited 4G/LTE data plans, according to an alleged internal memo published by TMO News. The memo sent to T-Mobile staff reads:
"T-mobile has identified customers who are heavy data users and are engaged in peer-to-peer file sharing, and tethering outside of T-Mobile's Terms and Conditions (T&C). This results in a negative data network experience for T-Mobile customers. Beginning August 17, T-Mobile will begin to address customers who are conducting activities outside of T-Mobile's T&Cs."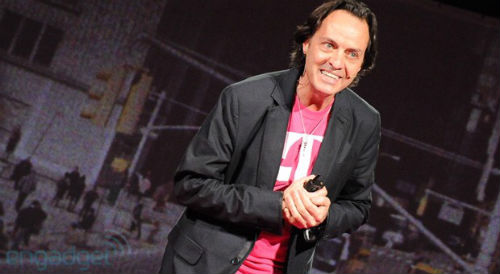 The memo also contains a 4-step plan to handle customers who are violating T-Mobile's terms and conditions.
T-Mobile will first contact the alleged abuser to notify them that they are violating their terms and conditions. The customer's account will be tagged with a "Misuse Warning SOC" until their next billing cycle. If the abuse continues, T-Mobile will then throttle the customer's data speeds. The account will also be marked by a "Misuse Throttle SOC" so customer care and other staff will know why that customer is experiencing slower speeds.
The T-Mobile crackdown only applies to customers with $70 unlimited and $80 Simple Choice plans. As noted above, T-Mobile will begin cracking the whip on August 17th. Guilty parties may want to consider this as an early warning and stop peer-to-peer file sharing on T-Mobile's network now, or you can wait until after you receive your first official warning. It's up to you.
Here's T-Mobile's policy on P2P file-sharing from section 18 of its terms and conditions:
"Using the Service in connection with server devices or host computer applications, including continuous Web camera posts or broadcasts, automatic data feeds, automated machine-to-machine connections or peer-to-peer (P2P) file-sharing applications that are broadcast to multiple servers or recipients, "bots" or similar routines that could disrupt net user groups or email use by others or other applications that denigrate network capacity or functionality."