Submitted by Marshall Walker on
T-Mobile has begun distributing nanoSIMs to retailers eight days before the purported Apple iPhone 5 event is supposed to take place. iFun (via 9to5Mac) posted an image of the Telekom (T-Mobile) nanoSIM being distributed to European retailers.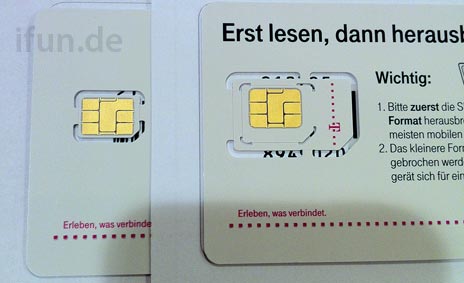 Apple's 40 percent smaller nanoSIM card design was approved by the European Telecommunications Institute (ETSI) in June. It was originally believed Apple would not use the smaller SIMs in the iPhone 5, but months later it was confirmed that European carriers were stocking up on cards in anticipation of the new iPhone's release. Meaning Apple's next-generation iPhone should be the first device to utilize the standard.
T-Mobile seems to be getting the jump on the nanoSIM trend by sending out this translated notice to retailers with the cards:
Dear partners,

You will receive today a new generation of SIM cards for the latest generation of smartphones that come in the near future on the market. Sort your SIM card please first not in their cards in hand and give it not out to customers. We will inform you shortly about how to proceed.
The new nanoSIM design comes in at 12.3 x 8.8 x 0.67mm, which will allow Apple to free up space for other things in future devices.