Submitted by Frank Macey on
The SIM card in your iPhone is about to get smaller. The nano-SIM standard was just approved by the European Telecommunications Institute (ETSI), shaving 40 percent off the size of current micro-SIM cards. The new standard will increase the amount of space available in mobile devices for other components.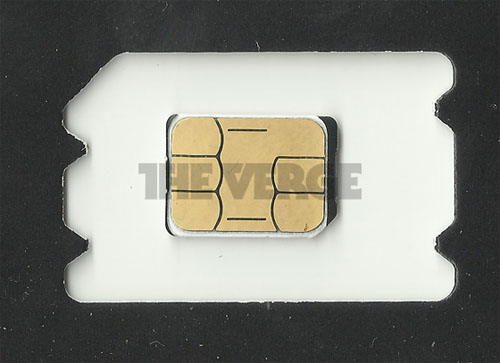 Apple's proposed nano-SIM card is pictured above from The Verge, inside the outline of a standard SIM card. The nano-SIM that was approved has the same dimensions as Apple's proposed card, coming in at just 12.3 x 8.8 x 0.67mm. The function of the SIM card will remain unchanged, and the new design can be packaged for backwards compatibility in older devices.
There was some speculation that the iPhone 5 would feature a nano-SIM card, however since the standard was just adopted this is not likely. Further decreasing the chances of a nano-SIM iPhone in October is news of leaked iPhone 5 SIM trays for sale. These parts have shown no change in the size of the SIM card, assuming they are authentic.
Motorola and RIM have been hotly debating the fourth form factor (4FF) SIM card, submitting alternatives to Apple's design to ETSI. In a recent compromise, the companies submitted a design standard with the same dimensions as Apple's. There is still one difference between the two, with the Motorola and RIM proposal including a notch for push-push functionality. This would make it possible for mobile devices to accept the nano-SIM without a tray. Apple's design does not include the notch, however until ETSI releases final specifications it's not clear whether or not the nano-SIM standard will include this option.