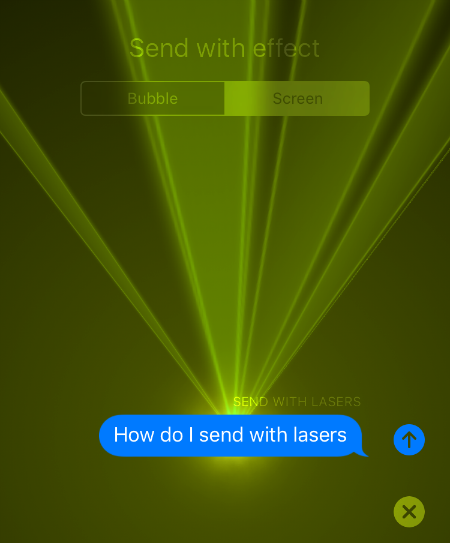 Update 2: iOS 10.1 allows screen effects to be played with Reduce Motion enabled.
Update: If the laser effect option does not appear in your Messages app, it is because you have the Reduce Motion slider enabled. Navigate to Settings -> General -> Accessibility -> Reduce Motion and tap the slider so it is OFF/WHITE.
Apple introduced several new messaging features with the release of iOS 10. iPhone owners can now send
Invisible Ink
text messages, hand written messages and add lots of new effects withing the Messages app. The effects available in iOS 10 include: Balloons, Confetti, Lasers, Fireworks and Shooting Star. Here's how to add effects to any text message in the Messages app:
Open your Messages app and select the contact or group you want to message.
Type your text message in the iMessage bar as you normally would.
Tap and hold down the blue arrow until the "Send with effect" screen appears.
Tap Screen.
Swipe left until you find the effect you want to use.
Tap the blue arrow to send your text message with the selected effect attached.
Remember, users can only see your effect if they also have iOS 10 installed. You can also quickly send effects in iOS 10 by typing key phrases like "Happy Birthday," which will send the Balloons effect.