Submitted by Marshall Walker on
It is like the developers read our minds, Samurai vs Zombies 2 is just too easy to beat, which left most players stuck with an awesome samurai army and nothing to do. Lets not even discuss the pointless and boring Multiplayer mode that Glu Games Inc. added to the sequel, because it does not extend the game's replay value.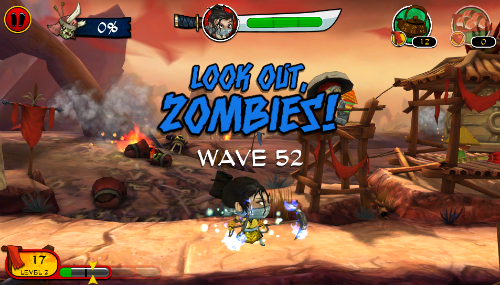 If you're like me, and have beat every level, daily challenge and have collected every artifact more than three times, I have good news. Glu Games has rolled out an all new "Endless Mode" that generates single player waves beyond level 50. There is also a new warrior Daimyo (you have to pay real money to unlock him), new ally upgrades, and even a new zombie wasteland to battle through. Other upgrades include small tweaks such as the ability to view an enemy's individual stats, new Village Archers artillery, new Bridge Spirits to defend your gate, and additional stability and performance improvements.
If you have never played Samurai vs Zombies 2, it's a free Tower Defense game for the iPhone and iPad. Players must build and send their samurai army to defeat hordes of zombies and demons. The game does not require in-app purchases to enjoy, and it is highly recommended. You can download Version 2.0.0 from the App Store.