Submitted by Thomas Estilow on
Did you know that 80% of all iPhone failures are due to accidents? The problem is that most mobile carriers will not cover a smartphone like the Apple iPhone under typical insurance contracts.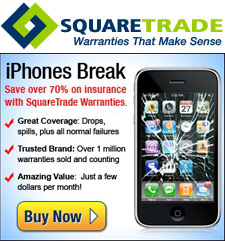 SquareTrade, a licensed insurance provider, offers the only iPhone protection that fully covers accidents from handling. The company has been in business since 1999 and has sold over one million iPhone warranties.
According to SquareTrade, "drops, spills, water damage, battery failures or any other failures from normal use or accidental damage" are all covered under their plans. This is the key difference between SquareTrade's insurance and other coverage options such as AppleCare.
Don't Drop That iPhone
Your iPhone comes with 90 days of technical support and a one year warranty from Apple, and many users have extended this coverage to two years with AppleCare. Unfortunately, if your iPhone is dropped and damaged or accidentally gets wet, Apple will not cover the repair.
Let's take a closer look at the features in SquareTrade's iPhone warranty.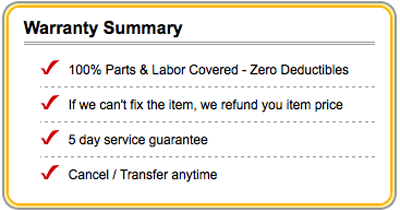 One of the best features of the plan is NO deductible and NO shipping charges. If you need to send your phone for a standard warranty repair everything is completely covered. Accidental damage repairs have a low $50 deductible. Some other insurance products we've seen have deductibles of $100 or more.
SquareTrade Can Save You Money
You may have paid $199 or $299 for your iPhone, however these are prices subsidized by your wireless carrier to the tune of $400. For example, full price for a 16GB iPhone 3GS from AT&T is currently a whopping $599. A $50 deductible to repair the broken iPhone is a great deal. Apple has been known to charge users $200 to repair a broken screen.
SquareTrade promises a five-day turnaround. This is quick. If it turns out the damaged iPhone can't be repaired, then SquareTrade will send you money instead.
How much money? Enough to subsidize a new phone at full price. Current reimbursement prices are $299 for the 8GB iPhone, $399 for the 16GB iPhone, and $499 for the 32GB iPhone. This means you can purchase a brand new iPhone for the same price you initially paid, saving you $400. If the cause of damage was accidental, the $50 deductible still applies.
If you're interested in canceling the coverage before the two years is up, SquareTrade will actually refund the remaining cost of the plan.
How does SquareTrade Compare?
Of course, there are other ways to get different kinds of coverage for your iPhone. We explored some of the options in this writeup, however SquareTrade has emerged the clear leader.
AppleCare for the iPhone costs a flat $69 for a second year of coverage (the first year is free). The weakness of this plan when compared to SquareTrade is that "Damage to the Covered Equipment caused by accident, abuse, neglect, misuse..." is not covered by AppleCare.
Credit cards vary widely in what additional warranty coverage they will provide to cover purchases such as the iPhone. Although using a credit card with some kind of accidental damage protection plan will not cost you any additional money (unless you're paying interest), most of these plans will only cover accidental damage for the first 90 days. This won't cover you very far into a two-year iPhone contract.
Depending on your existing insurance company, homeowners or renters insurance may be extended to cover an iPhone. State Farm will reportedly cover your iPhone for an additional $32.50 per year. The problem is that homeowners insurance deductibles can be $500 or more. This is almost the cost of a brand new 16GB iPhone at full price. If the extended coverage is not subject to the standard deductible, you'll need to get the iPhone repaired yourself, and it's possible you will face a complex and time consuming claims process.




SquareTrade clearly has expertise specific to the needs of iPhone owners and offers the most complete and easy solution.
What does SquareTrade cost?
For the level of coverage, the price of this protection can't be beat. The two-year SquareTrade insurance plan runs $96-$144 depending on your iPhone model. As of this writing, the company is currently in the middle of a 20% off promotion on ALL of their iPhone warranty products. This means two years of insurance on an iPhone 16GB (normally $120) is on sale for $96.
This means the cost is four dollars a month to cover a 16GB iPhone against manufacturing defects and accidental damage.
The Fine Print
There is some fine print, but we found these terms to be reasonable. You must purchase your SquareTrade iPhone warranty within 30 days of purchasing your iPhone. Standard warranty coverage is for two years from the date of purchase. Accidental damage coverage begins 30 days after the date of purchase, and complete loss or theft of your iPhone is not covered.
All claims get free shipping to the SquareTrade repair depot via UPS. Five-day service is guaranteed. If service takes longer, SquareTrade will refund the cost of your warranty. SquareTrade promises not to replace your iPhone with a refurbished model. They will repair YOUR phone.
What Do Others Say About SquareTrade?
SquareTrade's insurance plans and service have received near perfect consumer ratings on NexTag and Epinions, and have received an A+ rating from the Better Business Bureau (BBB). All warranties sold by SquareTrade are covered by Amtrust, an A- rated insurance company.
After a detailed review, we highly recommend SquareTrade if you're looking to protect your investment in an iPhone (and you probably should be, given the $500-600 replacement cost). You can give yourself a lot of peace of mind by protecting your iPhone now by with SquareTrade insurance. We already have.