Submitted by Chad Shmukler on
Though it hasn't yet been announced by Verizon, details of insurance options that will be available to Verizon iPhone owners are now available through Asurion's web site. Asurion is the third-party company that backs the mobile phone insurance Verizon combines with it's extended device warranty and markets to customers as Verizon TEC (Total Equipment Coverage). Although Verizon customers that own smartphones similar in price to the Verizon iPhone insure and protect their devices for $7.99 a month, at $10.99 a month, iPhone owners aren't so lucky.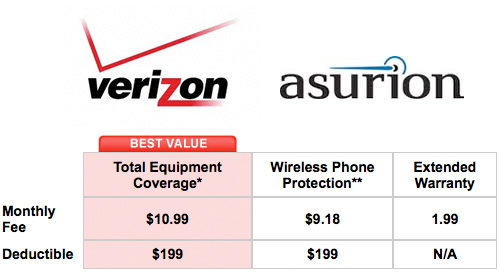 That is, if you consider $7.99 per month for insurance that comes with high deductibles "lucky" in the first place. From a deductible perspective, things are even worse for Verizon iPhone owners than they are when considering the monthly fee hike. Should you opt for Verizon / Asurion's TEC coverage on your Verizon iPhone, expect to pay a whopping $199 deductible in the event that you do need to file a claim.
Perhaps all is not lost for Verizon iPhone owners. AT&T iPhone owners might be jealous. A similar plan through AT&T (who also partners with Asurion) is at least a bit pricier $11.99 a month, even considering the fact that replacement costs (to the consumer) are considerably higher for the CDMA iPhone versus the GSM / AT&T iPhone. Also, as the table above shows, Verizon customers can opt-out of the warranty portion of the coverage and save $1.81 per month.
AT&T and Asurion made waves last year when they announced their similarly high-priced option for insuring and protecting the GSM / AT&T iPhone (originally priced at $13.99 per month). Has Verizon squandered an opportunity to add to the "reasons to switch" list for disgruntled AT&T iPhone owners?
Many AT&T iPhone owners have chosen other third-party insurance and warranty providers, such as
Worth Ave Group
and
SquareTrade
, which offer significantly lower monthly rates and deductibles.
UPDATE (2/10/07): To learn more about alternatives to Verizon / Asurion's hefty insurance price tag, read our new feature: Verizon iPhone Insurance: Don't Buy from Verizon/Asurion.