Submitted by Thomas Estilow on
The Apple logo on the back of your iPhone now has competition. Next week it will be possible to carry around a mobile device with three corporate logos!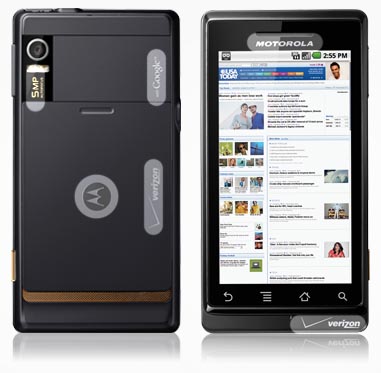 Verizon, Motorola and Google each get their own billboard space on the Droid, scheduled for release next week. In a brazen act of branding, two of these logos (Verizon and Motorola) actually appear on the front AND back of the Droid.
Will it be enough to make us forget about the lonely Apple gracing the back of our iPhones?
Droid reviews have been mixed. Notice the bonus 5MP logo next to the camera so you don't forget how many megapixels you have. Unfortunately early reviews indicate the focus, speed and quality of the photos are lacking.
In contrast, Droid's higher resolution display looks noticeably better than the iPhone's. The ability to swap out a dead battery is entirely convenient.
Some users think the physical keyboard is an improvement over the iPhone. These people will not mind staring at corporate logos and gold trim as they have no developed sense of aesthetics.
Nothing on the market is nearly as brilliant as a mobile computer with one button (and one corporate logo - on the back).
The Apple iPhone is continuing to impress analysts. Android could be a robust competitor to iPhone OS, but is the Droid really going to be the hardware that lives up to the hype? At least three companies are willing to put their name on it.