Submitted by Bob Bhatnagar on
Those looking for a Babel Fish can now have the next best thing on their iPhones. Today Google released the iOS version of its Translate app. This mobile powerhouse will translate between more than 50 different languages. What's more, Google Translate listens to spoken sentences in 15 different languages and spits out a written translation.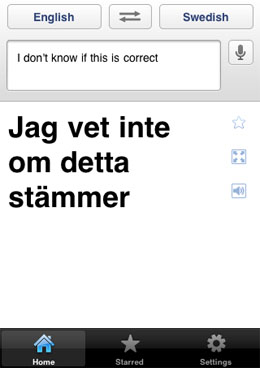 Text in 23 languages can also be spoken aloud by your iPhone with the press of a button. The app also features a zoom capability that makes the translated text large on your screen to show another person what you're trying to say. Speaking words into the app is as simple as pressing the microphone button, while entering text with the keyboard is also possible.
A history of your translations is stored and favorites can be starred to simplify later use. In fact, translations you've already performed don't require an Internet connection to review. Although the zoom capability is an iOS-only feature, the Android version of translate has two additional features that may one day make their way onto the iPhone. One is SMS translation, and the other is Conversation Mode that translates in real time and keeps a history of the translated conversation.
Google Translate has been available as a web app since August 2008, but the web version doesn't have any of the listening or speaking features. When it comes to languages with non-latin alphabets, the native iOS app even supports phonetics. For example, when displaying Chinese characters their associated Pinyin spellings are also listed.
Google Translate is available now on iTunes for free. The app requires iOS 3.0 or later.