Submitted by Bob Bhatnagar on
Apple has started to prompt iOS users to enter security questions in an effort to increase security for Apple ID accounts. The dialog box that pops up on the home screen may look suspicious, but the process is legit. The box reads "Security Info Required" and explains that a password confirmation is necessary.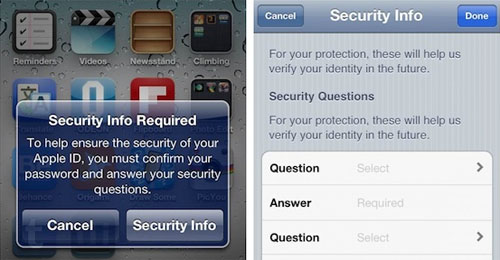 If you see the pop up, don't be alarmed, simply tap the Security Info button to make sure that Apple doesn't bother you again. This will forward you over to a Security Info screen, where you'll need to enter three separate security questions with answers.
Apple is also asking users to enter a backup email address, in case acces to the primary address is lost. Safeguarding the 225 million user accounts on iTunes and the App Store is an ongoing process, which Apple is not taking lightly. Some users are receiving the same prompts for additional security information directly in the iTunes software according to The Next Web.
After filling out the security questions, Apple will verify the changes with an email sent regarding your rescue email address. The message from Apple can be used to verify the change by iOS users:
Thank you.
You've taken the added security step and provided a rescue email address. Now all you need to do is verify that it belongs to you.
The rescue address you have given us is . Just click the link below to verify, sign in using your Apple ID and password, then follow the prompts.
The rescue email address is dedicated your security and allows Apple to get in touch if any account questions come up, such as the need to reset or change your security questions. As promised, Apple will never send you any announcements or marketing messages to this address.
Apple may ask users to enter a security question answer when purchasing apps or in other situations where the verification of identity is important.